Dongfeng 24000L Aluminum alloy fuel tanker

Dongfeng 24000L Aluminum alloy fuel tanker is made of 5083-6mm aluminum alloy plate, with a pump, divided into two warehouses, the two warehouses are interconnected, the two feed inlets are as close as possible to the user for loading oil at one time, the European standard tank mouth, with two sets of lower Install oil, with oil vapor recovery, with anti-overflow probe, the back of the tube box is closed, a ladder for each of the front left and rear heads, an aluminum alloy tool box as large as possible according to the space position, aluminum alloy accessories and pipes, other according to Standard production of tank trucks.
With armrests, fenders and accessories are made of aluminum alloy. A 500KG side-mounted aluminum alloy water tank and installed sprinkler. Equipped with two oil suction pipes and two fire extinguishers.
Dongfeng 24000L Aluminum alloy fuel tanker Specification:
---
1. Tank material: we can provide carbon steel tanks, stainless steel tanks, manganese steel tanks, aluminum tanks, steel with plastic (or rubber) tanks and plastic tanks.
2. Good welding: tank body is adopted an advanced automatic vertical welding techniques and head arc butt welding technology, as well as the whole- steel forming a composite.
3. High safety: equip with active and passive emergency protection devices, to provide full closure remote manipulation of materials handing functions. Equip separators [Baffle] to prevent surging of liquid towards bulk head
4. Function: The tank body is suit for loading light fuel oil, heavy oil, sulfuric acid, hydrochloric acid, nitric acid, caustic soda hydrogen peroxide, alcohol, benzene, cooking oil and so on.
5. Oil punp: gear pump, self-absorption (centrifuge) pump, chemical pump, heavy, oil pump, stainless steel pump are optional.
6. Tank shape: shape of tank body can be designed to square round, round,Heat insulation device such as heating pipes, insulation.
7. Refueling machine: the refueling machine we use are tax controled oiling machine with accurate figure of volume, sum of money,etc.
8. Optional: reading meter for outlet and inlet,self-discharge valve at rail or side of tank body, compartment quantity according to the demand.
Specification of dongfeng fuel tanker truck
Item
Specification
Item
Specification
General
Truck Name
 fuel tanker truck
Overall Dimension (mm)
 9600×2500×3350
Truck Brand
Gross / Curb Weight (kg)
 25000/9700
Truck Model
 CLQ5250GYY5RA
Rated Loading Weight(kg)
 15105
Cab
Cab Capacity
 3
Approach / Departure Angle (°)
 29/10,29/11,29/12
Front / Rear Overhang (mm)
 1250/2700,1450/2500,1515/2435
Front / Rear Axle Load (kg)
 7000/18000
Wheelbase (mm)
 4350+1300,4750+1300,5900+1300,

4900+1300,5350+1300,4350+1350,

4750+1350,5900+1350,4900+1350,5350+1350

Number of Axles
 3
Max. Speed (km/h)
 80
Quantity of Tyre
10
Tyre Model
 295/80R22.5 18PR,11.00-20 18PR,11.00R20 18PR
Front  Wheel Tread (mm)
 1940,1960,2010
Rear Wheel Tread (mm)
 1860/1860
Leaf Spring
 9/10,9/13
Traction System
 steering wheel
Chassis
Chassis Brand
 dongfeng
Chassis Model
 EQ1258GSZ5DJ
Type of Fuel
 diesel
Emission Standard
 euro 3
Engine (Motor)
Model
Displacement (ml)
Max. Power (KW/hp)
Brand
 ISD210 50
 6700
 155/210
 Cummins
Dongfeng 24000L Aluminum alloy fuel tanker Detailed image
---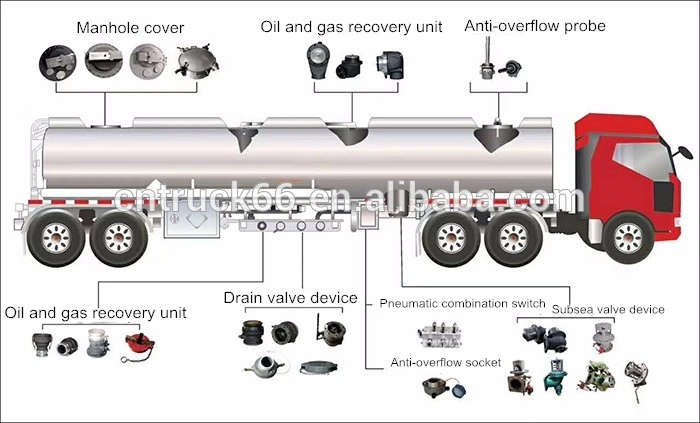 —- SGS, BV, COTECNA, CE certification.
—- Local engineer training support.


— Free parts for 12 months.
—- Supply of original parts.
—- DHL serves 7 days worldwide.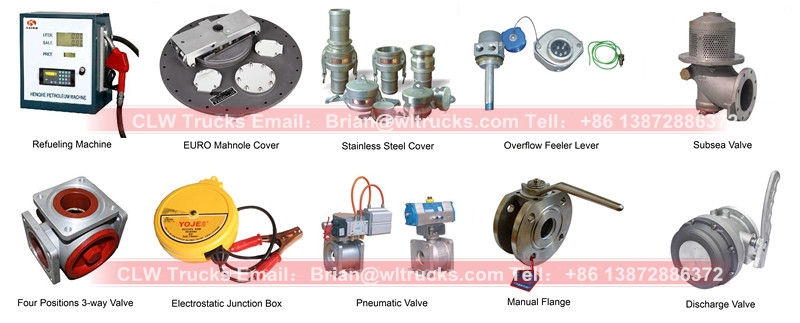 — 16 years of design and export experience.
—- 100% customized trucks.
—- Quick delivery guarantee.


—- Serving more than 80 countries and regions.
—- Professional guidance on import documents.
—- CO, FORM E, FORM P, pre-implantation inspection …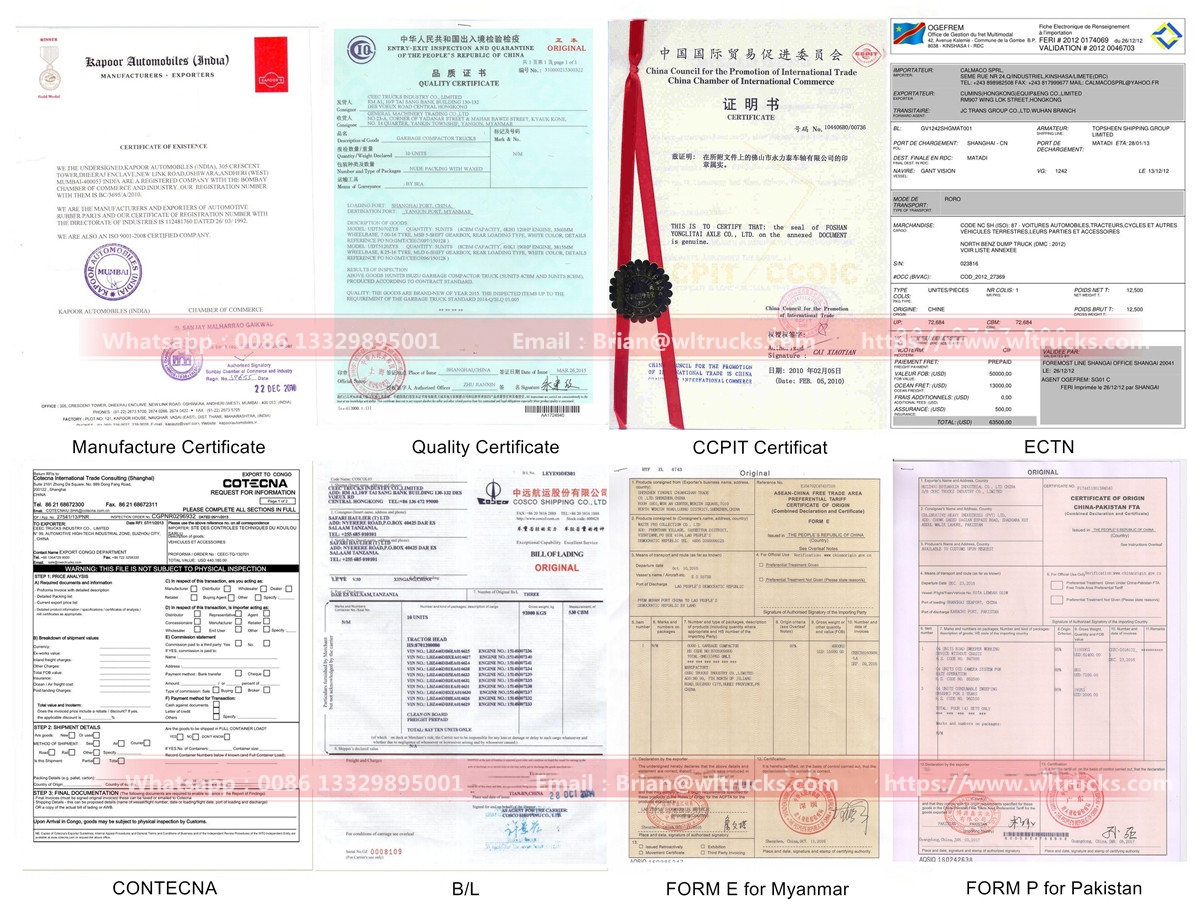 —- Maximize your shipping costs.
—- Professional guidance on import documents.
—- Safe, fast and timely


—- Fast shipping to all parts of the world.
—- The truck color and logo can be customized.