Dongfeng 22 meter street light repair aerial truck
Adopt Dongfeng D9 Dorica cab, wheelbase 4500mm, Cummins 190 hp Euro three engine, eight-speed gearbox, front axle 3.6 tons, rear axle 9 tons, 200L fuel tank, 9.00R20 tires, working height 20 meters to 22 meters, hydraulic 360 Full rotation, three folding arms.
Single hydraulic lifting cylinder, with two-way balance valve, electronically controlled lifting arm, four hydraulic cylinder adjustable legs with two-way hydraulic lock (leg operation is manual operation, can be controlled separately), with emergency unit.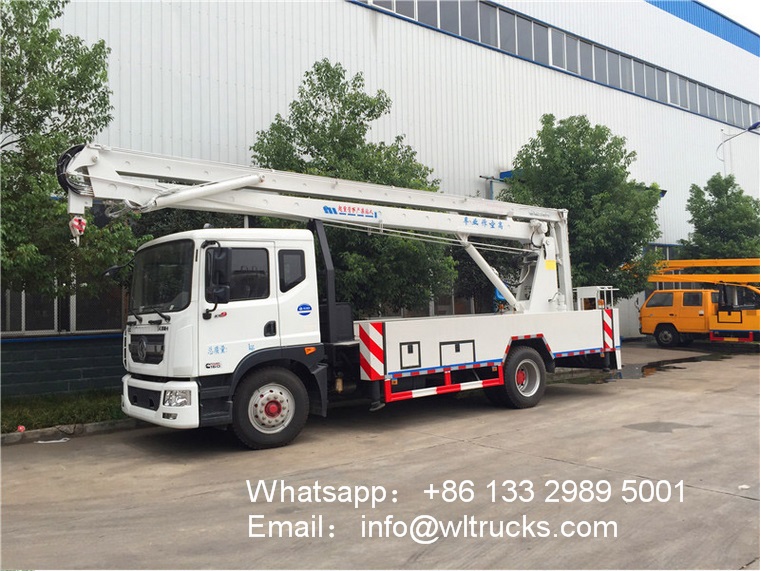 Dongfeng 22 meter street light repair aerial truck Application area:
Aerial platform vehicles are widely used for installation, maintenance and ascending operations in industries such as municipal administration, electric power, street lights, advertising, communications, photography, gardens, shipbuilding, transportation, docks, airports and ports, rescue and rescue, large industrial and mining enterprises, etc.
Aerial platform truck are also known as: street light repair trucks, hydraulic lift trucks, ascending platform trucks. Our company specializes in the production of 6 meters, 10 meters, 12 meters, 13.5 meters, 14 meters, 16 meters, 18 meters, 20 meters, 22 meters, 24 meters , 28 meters, 32 meters, 38 meters, 45 meters aerial platform trucks, lift trucks, products are widely used in electric power, street lamps, municipal Aerial work areas such as gardens, communications, airports, shipbuilding, ship repair, transportation, advertising, photography, etc. According to the type, it is mainly divided into: vertical lift type (also known as scissor type) aerial work truck, folding arm type lift aerial work truck, self-propelled aerial work platform, telescopic boom type aerial work truck, and ladder truck.
Dongfeng 22 meter street light repair aerial truck specification:
---
| | | | |
| --- | --- | --- | --- |
| Product name | Dongfeng 22 meter aerial working platform for truck and street light repair truck | Chassis model | EQ1168GLJ3 |
| Lift height customization | 22 meter | Total mass (kg) | 10295 |
| Engine horsepower | 190Ph | Rated load mass (Kg) | 200 |
| Engine name | ISB190-33 | Emission Standards | Euro 3 |
| Dimensions (MM) | 9200×2460×3600 | Fuel type | Diesel |
| Number of tires | 6 | Tire specifications | 10.00-20 |
| Wheelbase (MM) | 4500 | Maximum speed (km/h) | 95 |
| Front track | 1910 | Rear track | 1800 |
Performance profile

The company's aerial work vehicle series can accommodate more operators. Configuration work basket; with electric insulation device, subject to actual test, performance is reliable. Mainly used for high-altitude operations such as electrical line inspection, aerial work cleaning, and tree pruning.

Dedicated configuration

1. Maximum working height: 18 meters, maximum working range: 7.5 meters

2. Adopting the international leading Jiangling high-end chassis and installing three-section folding arm hydraulic lifting special device

3. Environmental protection items to the national motor vehicle fifth stage emission standards (country V)

4. Adopting domestic and imported reversing valve and hydraulic cylinder, the commutation is stable, the operation is flexible and convenient, the hydraulic system realizes the interlocking of the upper and lower vehicles, the overload protection, and the cylinder is safely locked.

5. Turntable, work bucket double station operation

6. The boom has a compact structure, good maneuverability and large working range.

7. The legs and the working arm are interlocked, safe and reliable, preventing misoperation

8.H-type legs, large span, good stability, the legs can be independently telescopic, and can be linked, equipped with a leg flashing light, used for the leg profile during operation, emitting a light alarm signal

9. Waterproof switch has limit function, dangerous working condition alarm, superior safety performance

10. Optional 1 ton hook (hook telescopic 800-1000mm), hook maximum lifting mass 500kg

11. Optional automatic protection system to prevent misoperation

12. Optional emergency power source, ignition and flameout device

13. Optional electronic control system for electro-hydraulic proportional speed control, stepless speed regulation, smooth operation / electronic control system optional ground wireless remote control operating system

14. Optional 10, 11, 13, 14, 16 , 18, 20, 22, 24meters series of aerial work.
Dongfeng 22 meter street light repair aerial truck Working parameter:
---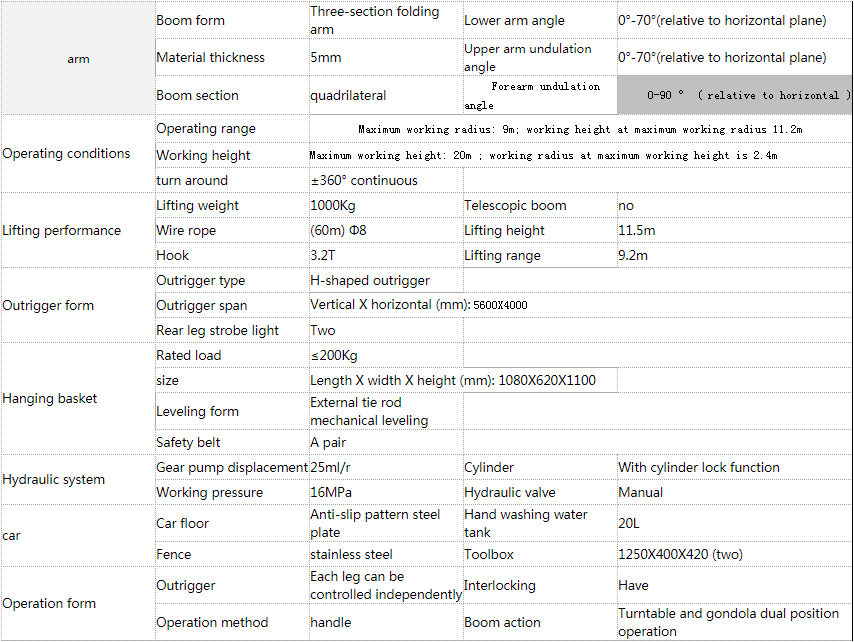 Dongfeng 22 meter street light repair aerial truck New craft:
---

Dongfeng 22 meter street light repair aerial truck details:
---