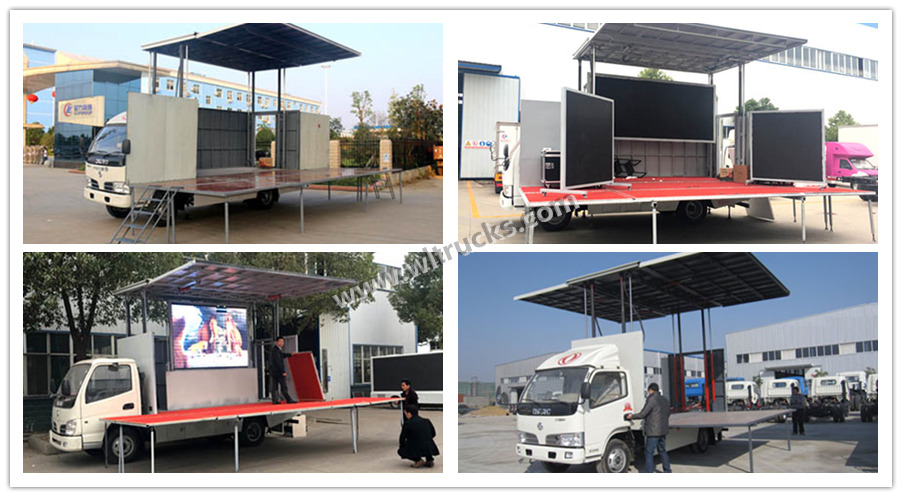 Dongfeng 18-24 square meters mobile stage truck Vehicle model: CLW5040XWTE5, cargo box length 4.2 meters, width about 2 meters, height can be selected from 1.8 meters and 2 meters, Chaochai 95 horsepower engine, etc., and are equipped with hydraulic legs, operating valves, lighting rack, Screen frame, screen, sound platform, etc.
Product advantages:
---
1.The van roof is closed, and the truss structure, lifting, the two sides of the compartment plate can be unfolded, vehicle stage roof and ceiling;
2.Stage plate can be folded in carriages and installation exhibition was launched by fixed surface of the stage and formed vehicle surface of the stage;
3.Chassis beam part is provided with a supporting device.
4.The car is special vehicles of stage art performance. Side door using cold-formed steel / Q235, welded connections, door after using cold-formed steel / Q235, welded connections, after door section height of 100mm, cross-sectional width dimension of 50mm, edge height from the ground 490mm.
5.Remarks: LED screen is optional according to your needs.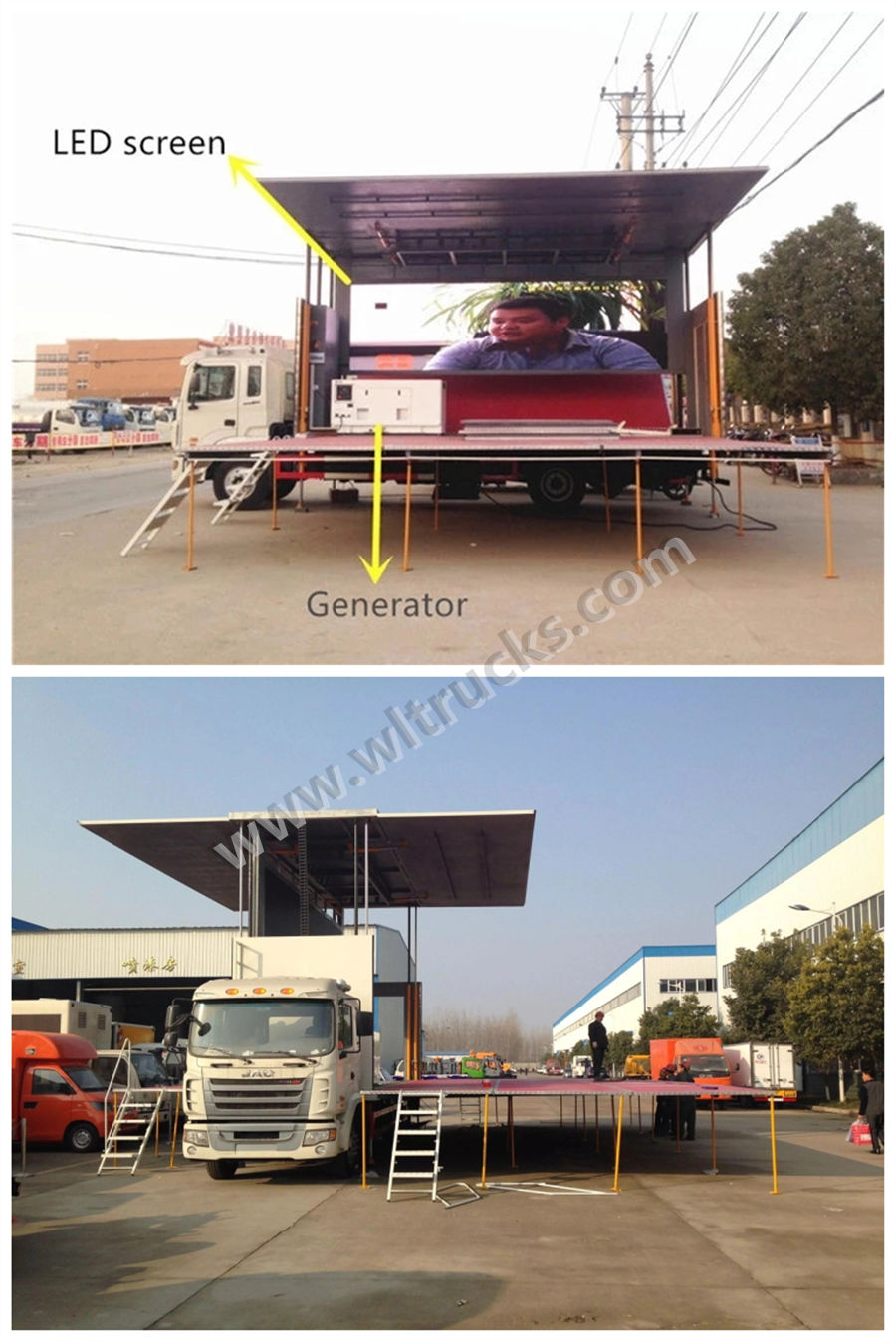 Dongfeng 18-24 meters square meters mobile stage truck Specification:
---
| | | | |
| --- | --- | --- | --- |
| Vehicle name | Dongfeng stage car | Vehicle model | CLW5040XWTE5 |
| Emission Standards | Eruo 3 Eruo 5 | Chassis model | EQ1041SJ3BDF |
| Environmental Notice | Have | Dimensions (mm) | 5995*2200*3150 |
| Fuel type | Gasoline and oil | Cargo compartment size (mm) | 4200*2200*2000 |
| Total mass (kg) | 4495 | Tire specifications | 7.00-15 10PR |
| Curb weight (kg) | 3865 | Rated passenger | 2 (person) |
| Wheelbase (mm) | 3360 | Maximum speed (km/h) | 95 |
| engine model | 4B2-95C40 | Displacement (ml) |  2540 |
| Engine manufacturer | Chao chai Power Co., Ltd. | Power (kw) | 70 (95 hp) |
Lifting height at top
≈ 800mm-1300mm
The height between the top and the stage board after expansion
≈ 3300 mm
Stage opening length
≈ 6200 mm
Stage depth
≈ 40 00mm (width)
Main stage area
≈ 16 ㎡-24㎡
Stage area
≈ 6 ㎡
Cabinet material
Combined skeleton of aluminum profiles and stampings
Outer plate material
Cold rolled steel plate
Interior material
Waterproof plywood
Stage board
Waterproof, non-slip, fireproof ventral plywood
Cylinder
Poly Electromechanical
Tubing
Double exhibition steel wire tubing
Onboard
Light stand, curtain, hook, stage ladder, stage screen
Optional
High-precision LED high-definition color screen (P6, P5, P4, etc.)
Stage car modification style picture:
---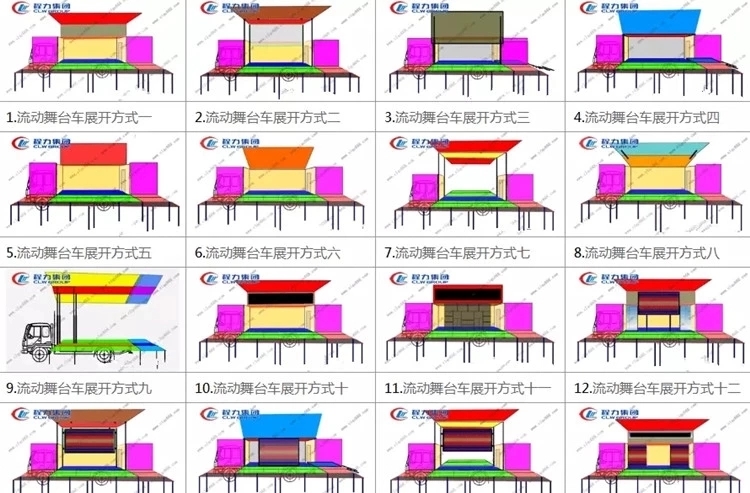 Led Stage vehicle Field of use:
---

Stage screen truck Composition structure:
---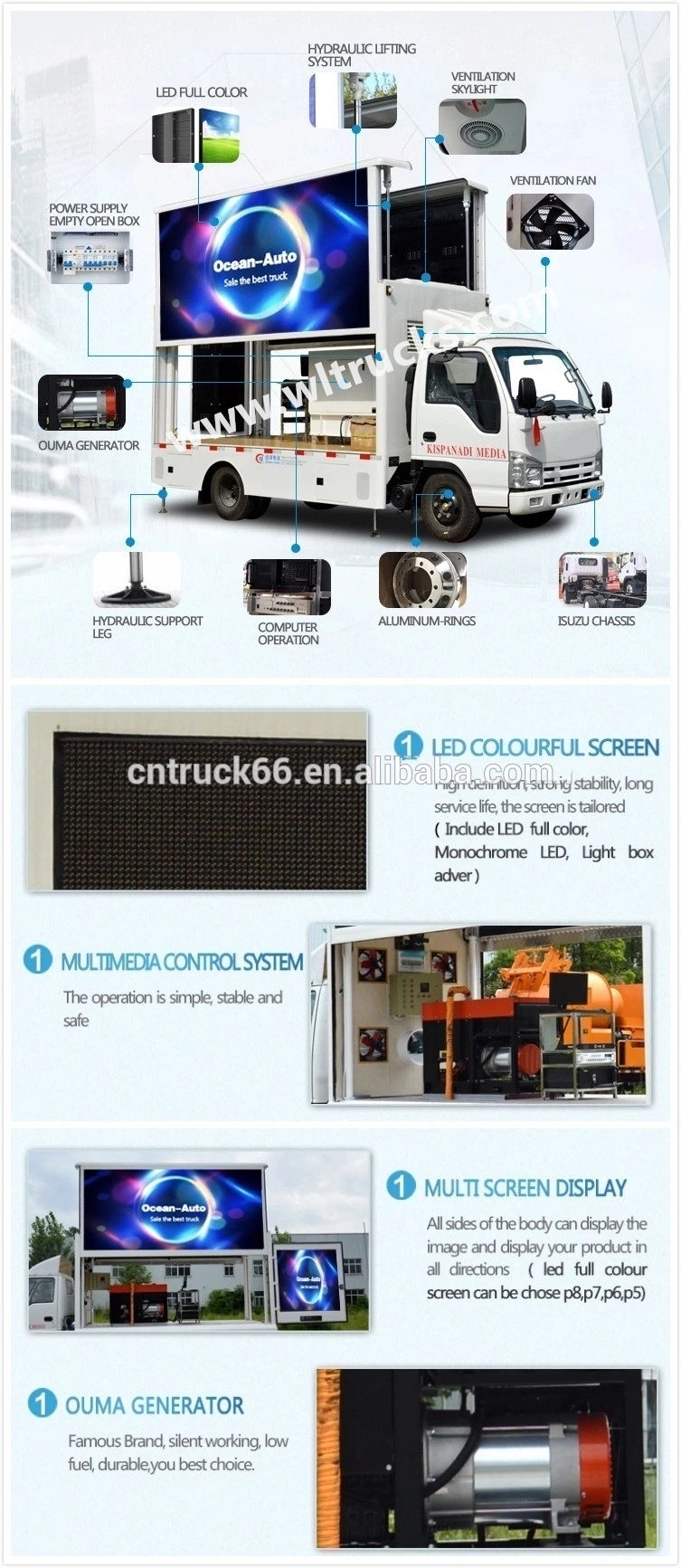 detailed picture:
---