Dongfeng 10000 liter to 15000liters compactor Docking garbage truck Product Description:
---
Dongfeng 10000 liter to 15000liters compactor Docking garbage truck Chassis configuration: Dongfeng original chassis, wheelbase 3950mm to 4700mm, Tianjin luxury cab, Cummins 170, 190, 210 horsepower engine, Dongfeng 6-speed gearbox, 900-20, 1000-20 tires, air brake.
Dongfeng 10000 liter to 15000liters
compactor Docking garbage truck
Top-loading configuration: fully sealed box, double hydraulic cylinders for lifting and self-unloading, tail gate can be docked with compression station, and used to transfer garbage from compression station. The top hydraulic opening cover can be used to load and transport garbage with a forklift.
Dongfeng 10000 liter to 15000liters compactor Docking garbage truck Specifications:
---
Dongfeng 16 m3 to 20 m3 compressed docking garbage truck

Chassis model

DFL1160BX

Actual volume (cubic)

16 – 20

Total mass (kg)

15800

Engine horsepower

180

Rated load mass (Kg)

7605

Engine name

Cummins

Emission Standards

Country V

Dimensions (MM)

7790,7240,7600,7050×2500×3200

Fuel type

Diesel

Number of tires

6

Tire specifications

9.00-20 16PR, 10.00-20 16PR, 10.00R20 16PR

Wheelbase (MM)

3950

Maximum speed (km/h)

90

Front track

1900, 1880, 1810, 1940

Rear track

1860, 1800, 1800, 1860

Performance profile

Vehicle Used for Garbage IS at The Transfer and unloading the Operations in Urban Garbage compression Stations.  At The Operating System CAR IS A Completed by Hydraulic Control System, and the MODE CAN BE at The Control Manual or Electric Control.  At The The collection and transportation mode of  the  garbage truck  is the garbage transfer mode of the garbage compression station widely used in China at present, which can realize one-car multi-station, greatly reducing the cost and space of equipment.  The box body of the vehicle Is made of high-quality carbon steel plate and fully sealed welded structure, which has the advantages of high strength, light weight and no secondary pollution.  This car is our company's quality inspection-free products.
Dongfeng 10000 liter to 15000liters compactor Docking garbage truck Working parameter:
---
Hydraulic pump
Long source large flow 32-80 pump, optional double pump and double valve
Body material
High strength T420 special steel plate
Hydraulic cylinder
Xiamen Yinhua, Yantai Future
Box thickness
Lightweight design with 4mm at the bottom and 5 sides
Multi-way valve
Jiangsu Zhongmei, Italy imports
Sewage tank
2 (1 on the side and 1 on the rear)
Conversion mode
Photoelectric switch (formerly pressure relay)
Sewage seal
Tail diversion groove + rubber hydraulic lock
Automatic control
Standard configuration, Siemens PLC electronic control
Lighting device
Tail night light
Electric control box
3 (1 in the cab and 2 in the rear)
safety devices
Tail lift with hydraulic lock
Optional configuration
Hanging plastic buckets (120L, 240L, 360L, 480L, 660L), hanging iron buckets, triangle buckets, fully sealed buckets, swing arm racks, electric hydraulic system
Dongfeng 10000 liter to 15000liters compactor Docking garbage truck New craft:
---

Dongfeng 10000 liter to 15000liters compactor Docking garbage truck Detailed Images: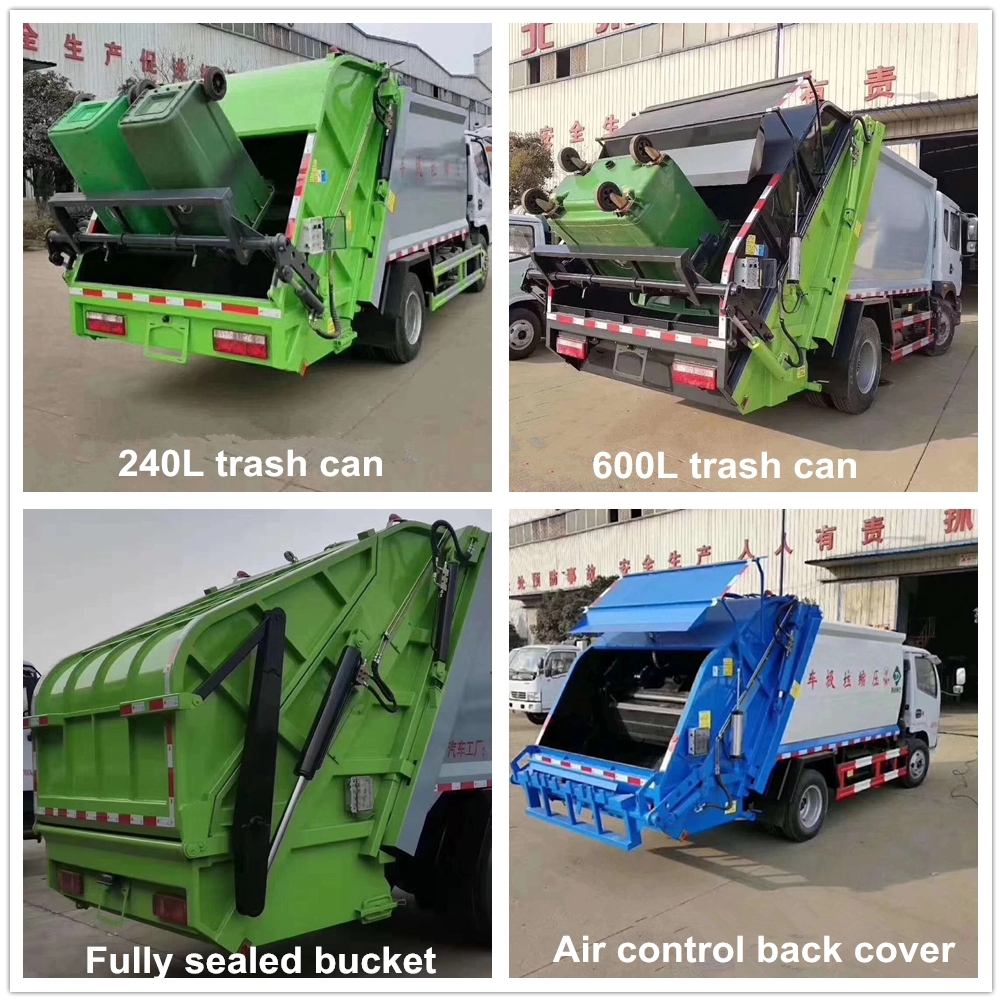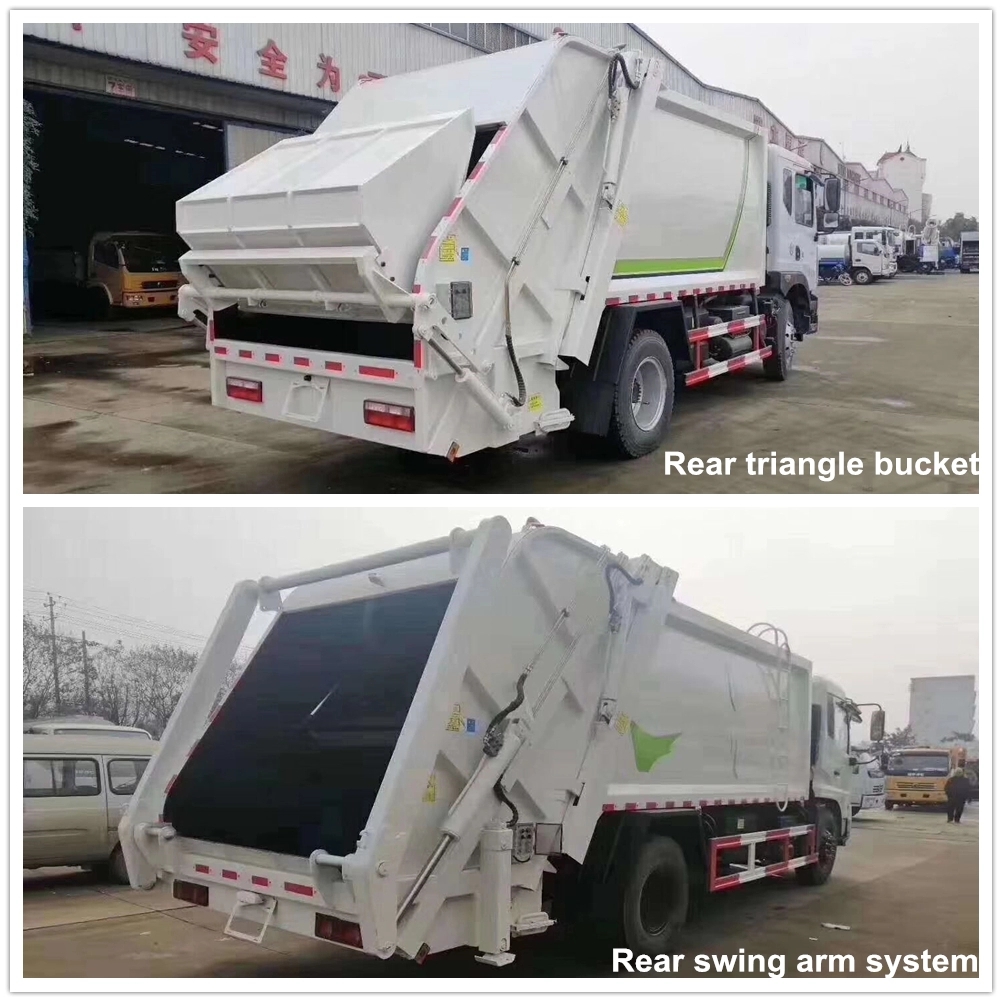 Dongfeng 10000 liter to 15000liters compactor Docking garbage truck Structure diagram:
---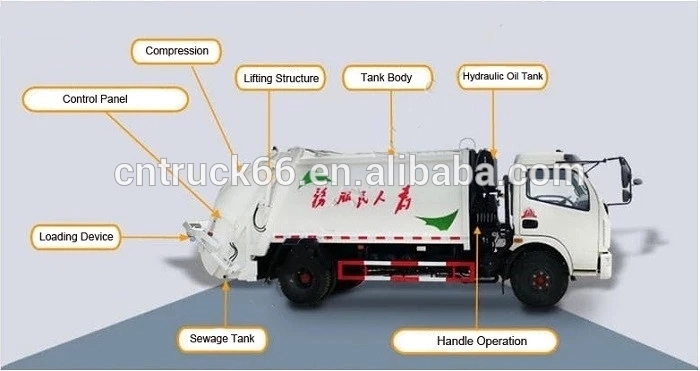 Dongfeng 10000 liter to 15000liters compactor Docking garbage truck Detail drawing:
---

Customizable garbage truck models
---