DFAC 18 meter to 20 meter telescopic boom aerial platform truck
Adopt Dongfeng duolika D7 single row cab, Eruo 3 ChaoChai 120 horsepower engine, six-speed gearbox, 3800 wheelbase, 750-16 tires.
Bodywork configuration: Telescopic straight arm structure, working arm is 4 sections telescopic, turntable can be operated, can also be operated by remote control, can rotate 360 degrees, four hydraulic legs, work bucket bearing 200 kg, stainless steel hoarding, pattern anti-skid walking platform board. The work bucket adopts mechanical self-balancing design, and its function is that the work bucket is always in a balanced state when working. The extension angle of the forearm is up to 80° in order to adjust to the working position.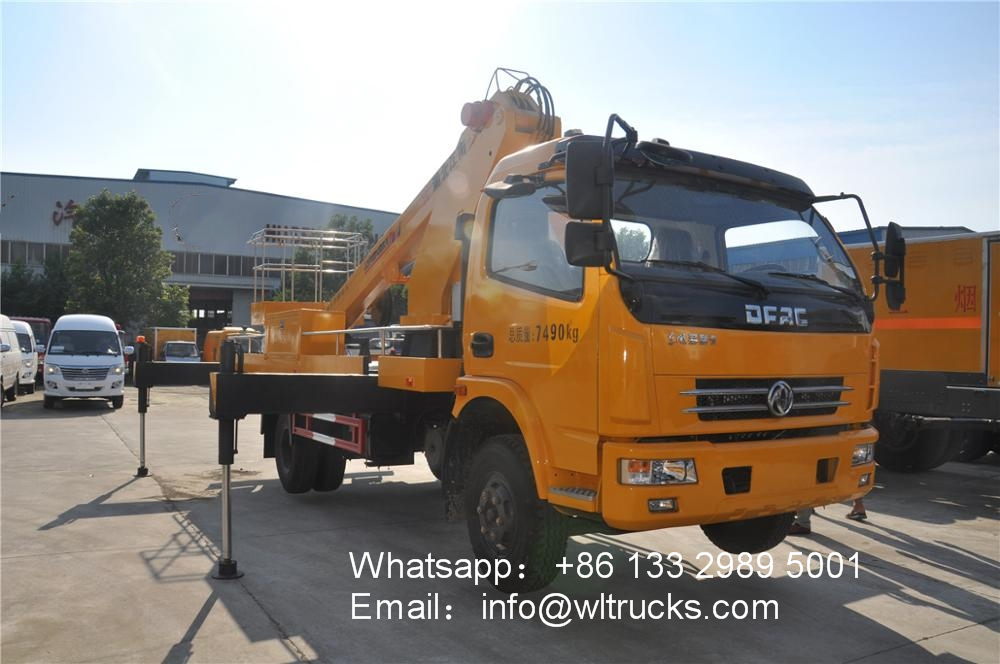 Aerial platform vehicles are widely used for installation, maintenance and ascending operations in industries such as municipal administration, electric power, street lights, advertising, communications, photography, gardens, shipbuilding, transportation, docks, airports and ports, rescue and rescue, large industrial and mining enterprises, etc.
Aerial platform truck are also known as: street light repair trucks, hydraulic lift trucks, ascending platform trucks. Our company specializes in the production of 6 meters, 10 meters, 12 meters, 13.5 meters, 14 meters, 16 meters, 18 meters, 20 meters, 22 meters, 24 meters , 28 meters, 32 meters, 38 meters, 45 meters aerial platform trucks, lift trucks, products are widely used in electric power, street lamps, municipal Aerial work areas such as gardens, communications, airports, shipbuilding, ship repair, transportation, advertising, photography, etc. According to the type, it is mainly divided into: vertical lift type (also known as scissor type) aerial work truck, folding arm type lift aerial work truck, self-propelled aerial work platform, telescopic boom type aerial work truck, and ladder truck.
DFAC 18 meter to 20 meter telescopic boom aerial platform truck specification:
---
| | | | |
| --- | --- | --- | --- |
| Product name | DFAC 20 m telescopic boom aerial platform truck and aerial bucket truck | Chassis model | EQ1080JDBX3 |
| Lift height customization | 20 meter | Total mass (kg) | 7410 |
| Engine horsepower | 120Ph | Rated load mass (Kg) | 200 |
| Engine name | CY4102 | Emission Standards | Euro 3 |
| Dimensions (MM) | 7240×2150×3100 | Fuel type | Diesel |
| Number of tires | 6 | Tire specifications | 7.50-16 |
| Wheelbase (MM) | 3800 | Maximum speed (km/h) | 95 |
| Front track | 1680 | Rear track | 1640 |
Performance profile

Imported reversing valve and hydraulic cylinder are used for commutation and balance, and the operation is flexible and convenient. Four H-type hydraulic legs are installed in the vehicle, which can be lifted and lowered at the same time to ensure the stability and safety of the whole vehicle during operation. It can be operated up and down, and the hook is installed. The maximum lifting weight of the hook is 200kg. The full telescopic is the working arm and the 360 degree rotation. Up and down two sets of operating systems, complete a variety of work on the work bucket and turntable, optional 14-32 meters series straight arm aerial work.

Dedicated configuration

Blue brand telescopic boom aerial work car function introduction:

1. The front V rear H-shaped legs have good stability and can be operated simultaneously or separately to adapt to various working conditions.

2, the main supporting hydraulic and electrical components: load-sensitive proportional valves, balancing valves, controllers, etc. are produced by well-known domestic manufacturers.

3. The chassis is equipped with Jiangling Guosan chassis, equipped with air conditioning, and the steering wheel is hydraulically assisted.

4. Configure the vehicle level to ensure the level of the vehicle and ensure safety.

5, computer control, automatic limiting, dangerous work alarm, excellent safety performance. Get off the vehicle and display the real-time operating conditions.

6. Hexagonal working arm, synchronous telescopic, compact structure, high working efficiency and large working range. The telescopic cylinder is external and the chain telescopic mechanism makes it easier to observe the fault point and facilitate maintenance.

7. The whole vehicle electrical appliance adopts CAN bus control system, and the line is neat and simple. There are two operations in the whole vehicle: platform operation, ground operation, safe and reliable, and high work efficiency.

8. The slewing mechanism adopts adjustable type for easy adjustment.

9. Optional 14, 16 , 18, 20, 22,24,26,28,30,32 meters series of aerial work.
DFAC 18 meter to 20 meter telescopic boom aerial platform truck Working parameter:
---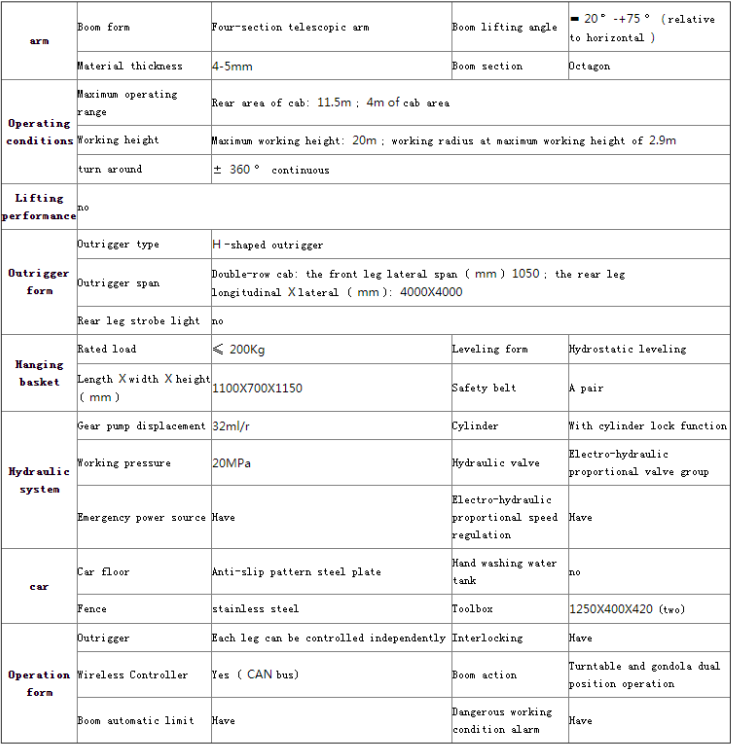 DFAC 18 meter to 20 meter telescopic boom aerial platform truck New craft:
---

DFAC 18 meter to 20 meter telescopic boom aerial platform truck details:
---

ChengLi Aerial platform truck features:
---
◇ The truck adopts the international leading Qingling high-end chassis and is equipped with a special device for straight arm hydraulic lifting
◇ Three operating modes: wireless + wired + handle, more convenient to use, adapt to various working conditions, computer intelligent control, automatic limit range, automatic alarm device for dangerous working conditions, more safe and reliable
◇ The work bucket and the rear of the entrance and exit, easy to enter and exit, good passability
◇ Fully telescopic working arm, high operating efficiency, wide operating range
◇ Octagonal cross section of working arm, good love, made of high strength material, good reliability
◇ There is an emergency power source for more protection, and a 220V power socket is provided when getting off the car, which can easily lead the 220V power source to work at a high place.
◇ Remote control system of engine speed, easy to operate and high efficiency
◇ The support legs can be operated on both sides of the cab, which is convenient and efficient.
◇ The outrigger is H-shaped, the outrigger span is large, and the stability is good. It can be operated at the same time or separately, adapting to various ground conditions
◇ 360-degree turntable rotation, wide operating range, improve efficiency.