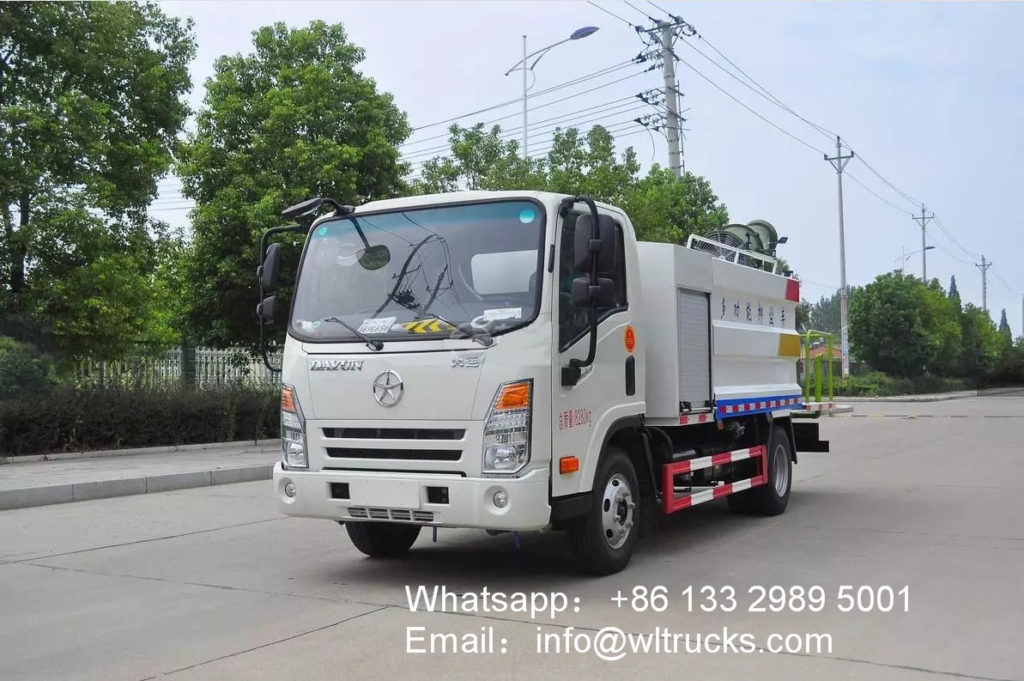 Dayun 5 ton 30 meters to 40 meters Disinfection spray truck Adopt Dayun chassis, 1.835-meter single-row luxury cab, 3.3-meter wheelbase, full diesel 115 horsepower engine, 700 steel tires with spare tires, Wanliyang five-speed gearbox, 6-ton rear axle, air brake, electric doors and windows, central control Lock, remote control key, new standard configuration, direction assistance, original ABS.
Top-loading configuration: the volume of the new square tank is 5 cubic meters, the interior of the tank is anti-corrosion and anti-rust, equipped with a high-power sprinkler pump, a high-power auxiliary engine, and a fog gun unit at the rear (according to customer requirements). Function, perfectly achieve the effect of dual use of one car.
products details:
---
1. Optional chassis brand of city disfection truck: Dongfeng, Sinotruk HOWO, FOTON/Forland, Faw, Shacman,ISUZU,JAC,JMC
2. Material of city disfection vehicle :High Tension Steel Q235,stainless steel 304 for option.
3. Sprinking Width of portable water truck :>14M
4. Rear working platform with water cannon range of portable water truck :28M
5. Water Tank: square or round tank for option,square tank,high-quality Q235 carbon steel treated for anti-corrosion and anti-rust
6.large flow water pump as standard, 50-100 meters fog Gun machine for option;
7.TDM-M06 60 meters, generator power 50KW, fan power 22KW, stainless steel multistage centrifugal pump power 11KW, 100 meters wireless remote control operation.
Working parameter:
---
Front nozzle
15 meters hedge, optional duckbill forward
Tank material
Carbon steel Q345/stainless steel 304
Rear sprinkler
Fan-shaped sprinkler, more than 20 square
Thickness of tank
4-6 mm
Car side nozzle
Sprinkler water, more than 6 meters
Tank shape
Square, square, oval
Green anti-aircraft gun
Water column 28 meters, adjustable large, medium and light rain
In-tank treatment
Standard anti-rust coating, can be used for anti-acid alkali polyurea epoxy treatment
Generator set
7 kW gasoline, 30-150 kW diesel
Water way
Self-priming water, fire water injection, tank top water injection
Spray unit
30m-120m optional
Water pump brand
China pump
way to control
Electronic control + remote wireless remote control, 360 degree rotation + up and down 90 degree swing
Dayun 5 ton 30 meters to 40 meters Disinfection spray truck Specification:
---
Main technical data of Dayun 5m3 multi-function dust suppression vehicle products
product name
Dayun 5-square multi-function dust suppression vehicle
Dimensions (mm)
6500, 6750, 7100×2010×2760
Vehicle model
CLW5080TDY5
Cargo compartment size (mm)
××
Front passenger
3,2
Rated passenger (person)
Total mass (kg)
8280
Approach/departure angle (°)
20/12
Rated mass (kg)
3925,3990
Front overhang/rear overhang (mm)
1150/2050
Curb weight (kg)
4160
Maximum speed (km/h)
90
Emission Standards
GB17691-2005 National V, GB3847-2005
Vehicle description
The main purpose of this vehicle is dust suppression and haze reduction. The special device is dust suppression gun, model and manufacturer: LM-30, Hubei Chengli Automobile Equipment Co., Ltd. Medium: water, density: 1000 kg/m3, effective volume of tank: 4.09 In cubic meters, the external dimensions (length × width × height) of the tank are (mm): 2500 × 2010 × 1150; the corresponding relationship between the length and wheelbase of the vehicle is (mm): 6500/3300, 6750/3550, 7100/3900. Optional cab with chassis, protective material: Q235A carbon steel, connection method: both left and right sides are welded, the lower rear protection is welded, the lower rear protection cross-sectional size (mm): 50×100, the rear protection is off the ground Height (mm): 410. ABS manufacturer: WABCO Automotive Control System (China) Co., Ltd., model: ABS-E 4S/4M; Zhejiang Wanan Technology Co., Ltd., model: VIE ABS-II.
Chassis parameters of Dayun 5-square multi-function dust suppression vehicle
Chassis model
CGC1080HDE33E
Fuel type
Diesel
Number of axes
2
Front track (mm)
1590,1665,1740,1770,1804,1840,1833,1644,1776,1819
Wheelbase (mm)
2800, 3300, 3550, 3900
Rear track (mm)
1540,1640,1650,1700,1750,1811,1835,1790,1860,1888,1900,1615,1800
Number of tires
6
Tire specifications
7.50-16, 7.50R16, 8.25-16, 8.25R16
Dayun 5m3 multi-function dust suppression vehicle engine parameters
engine model
Engine manufacturer
Displacement (ml)
Power (kw)
YNF40E1
JE4D28Q5F
YN38CRE1
YN33CRE1
Kunming Yunnei Power Co., Ltd.
Jiangxi Isuzu Engine Co., Ltd.
Kunming Yunnei Power Co., Ltd.
Kunming Yunnei Power Co., Ltd.
3920
2776
3760
3298
125
97
95
85
Disinfection truck structure composition:
---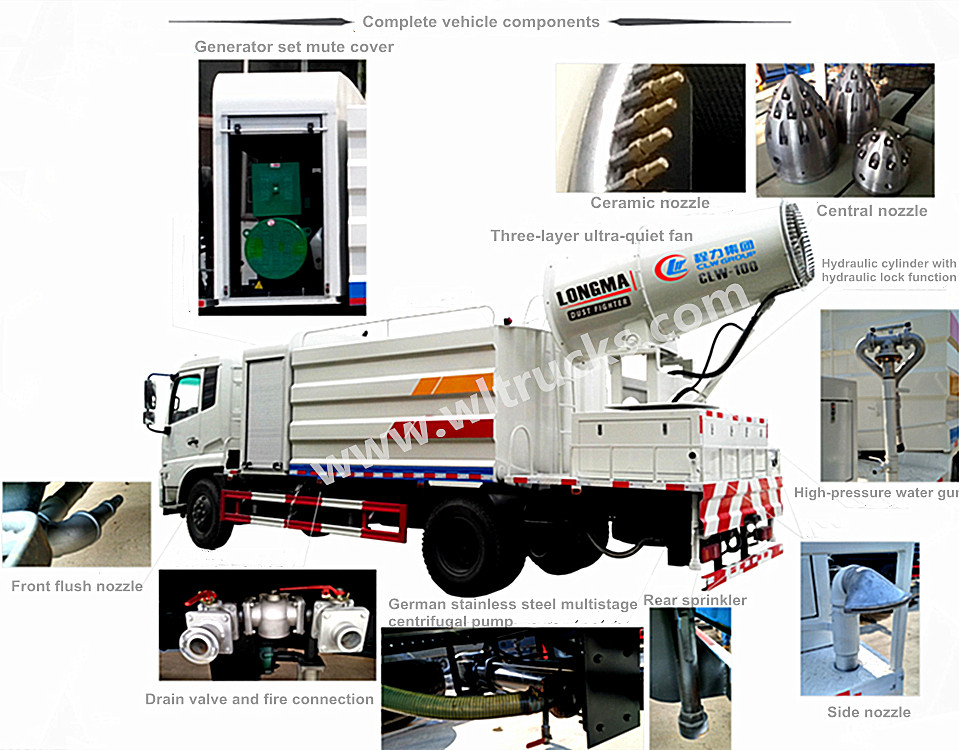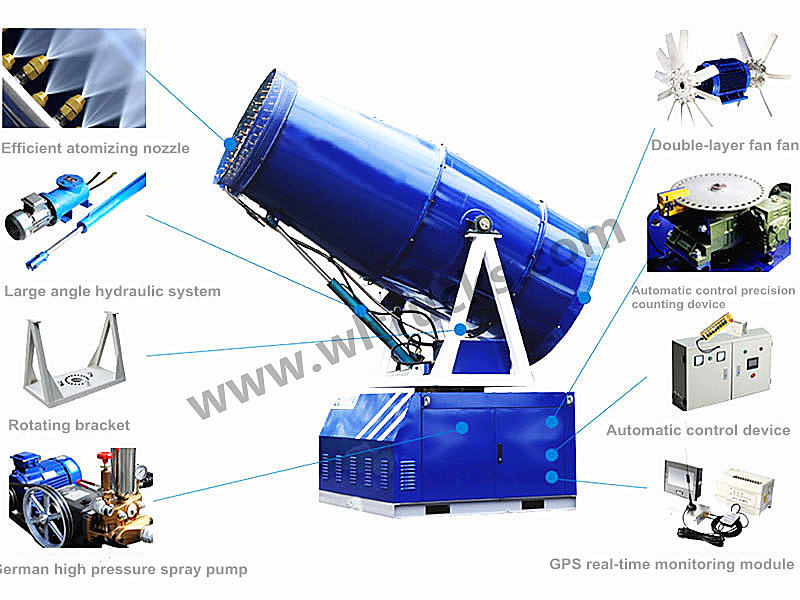 New craft:
---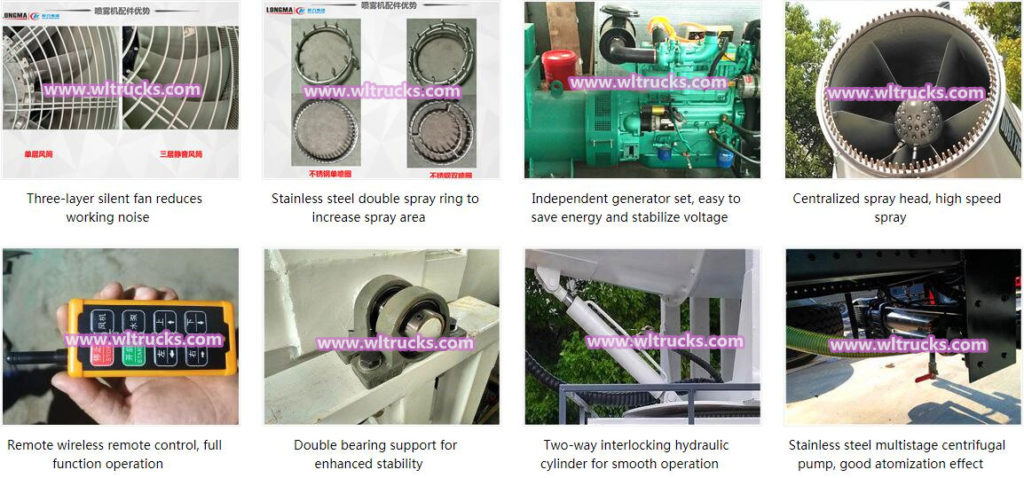 disinfectant trucks Optional configuration:
---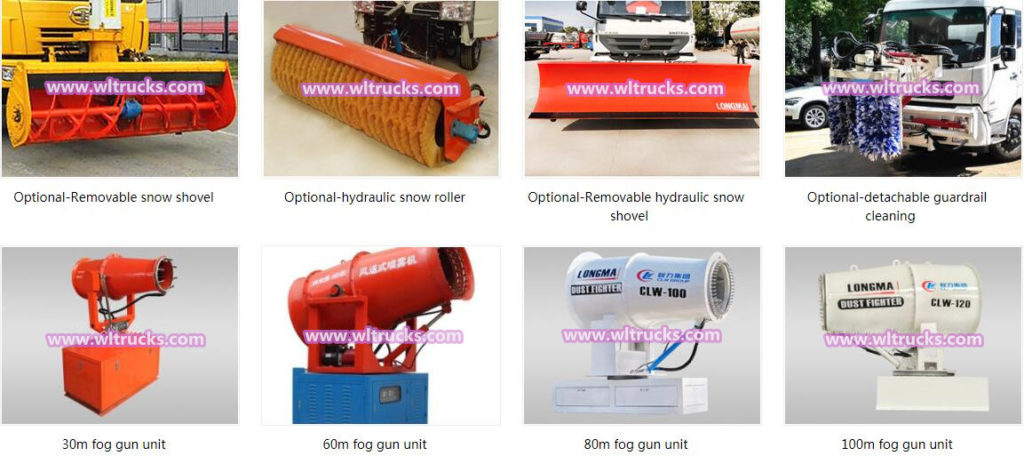 Inspection Training:
---
—- SGS, BV, COTECNA, CE certification.
—- Local engineer training support.

Free Parts:
---
— Free parts for 12 months.
—- Supply of original parts.
—- DHL serves 7 days worldwide.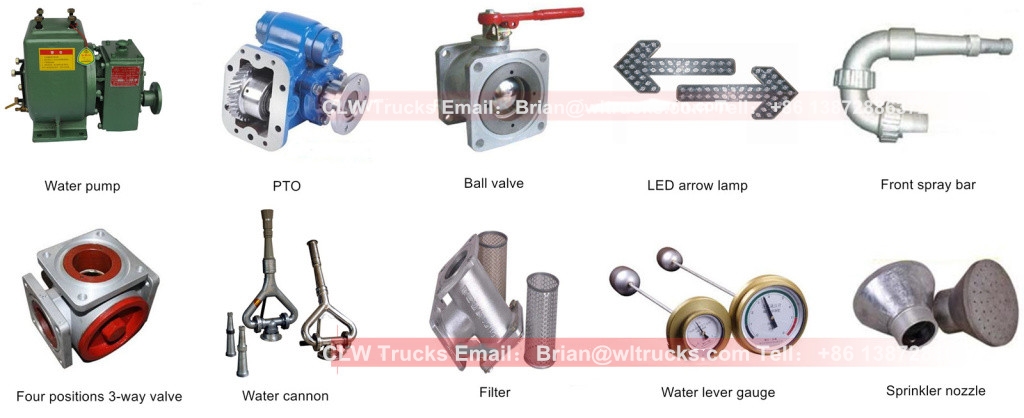 Disinfection vehicle Factory Advantage:
---
— 16 years of design and export experience.
—- 100% customized trucks.
—- Quick delivery guarantee.

Export Documents:
---
—- Serving more than 80 countries and regions.
—- Professional guidance on import documents.
—- CO, FORM E, FORM P, pre-implantation inspection …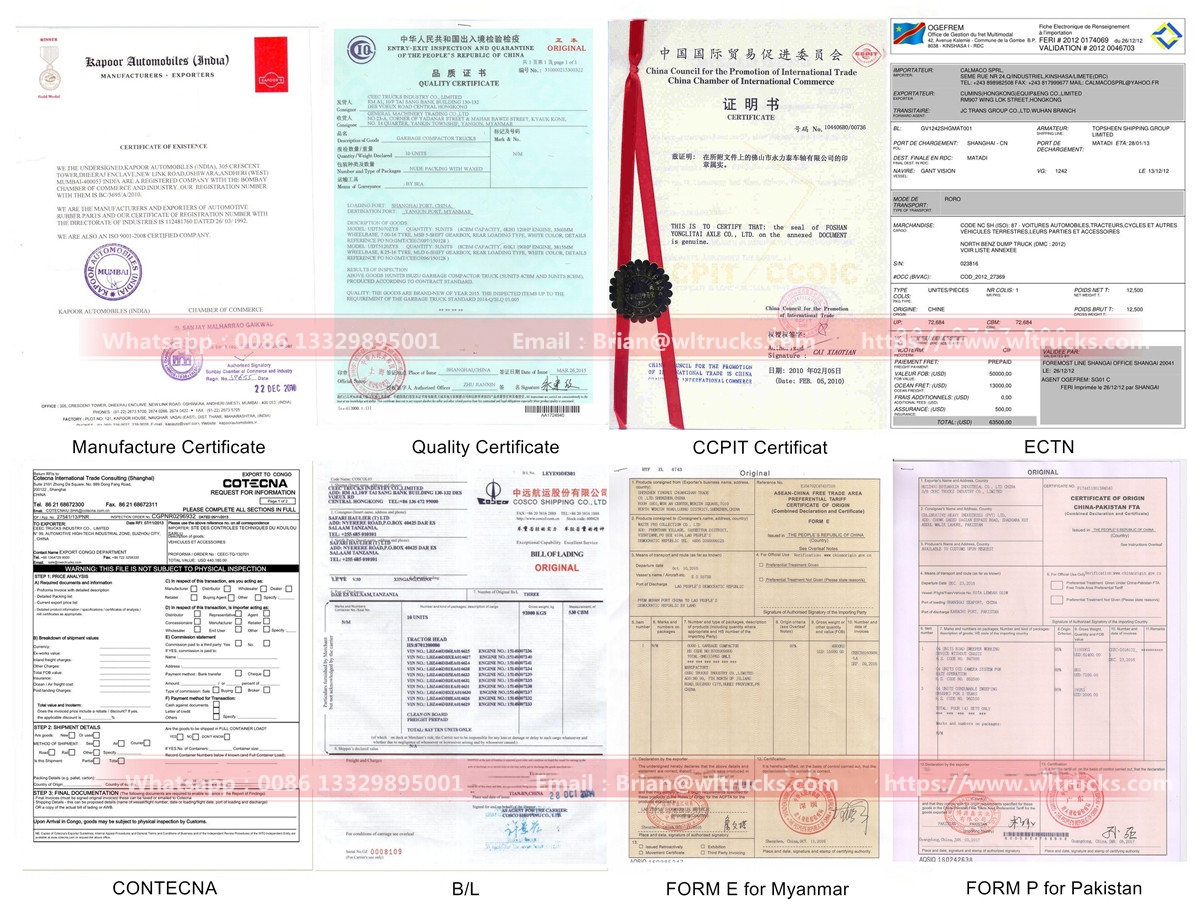 Shipping:
---
—- Maximize your shipping costs.
—- Professional guidance on import documents.
—- Safe, fast and timely

Bulk order case:
---
—- Fast shipping to all parts of the world.
—- The truck color and logo can be customized.