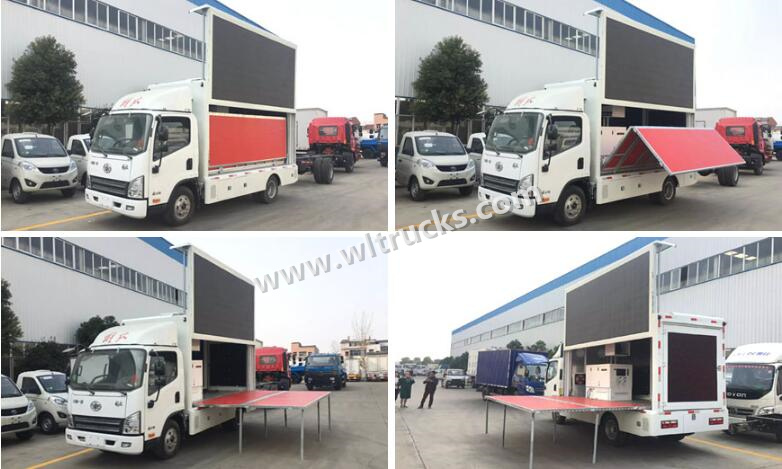 China FAW outdoor led video truck Vehicle model JDF5040XXCCQ5, Xichai 95 hp (70 kW) engine, cargo box is about 4.2 meters long.
Optional single-sided color screen, double-sided color screen, three-sided roller, three-sided glass and other configurations, can also be equipped with screen hydraulic lifting, hydraulic stage, expansion cabinet, special functions, various body colors, etc.
Product advantages:
---
1. P6,P8 and P10 full color led screen for optional, meet all customer's requirement.Brightness can be adjusted automatically according to different surroundings
2. Side screen can be lifted 1.5m for stage performance,good visual effect,Multi-media Control System.High definition 15625pixels/sqm, good uniformity, HD nice video advertising effect.
3. Double color scrolling marquee on the rear door.Equipped with high quality play devices. perfect listening effect.
5.Super-silent generator, save electricity, environmental protection.Luxury wood floor with plastic flooring.
6.LED Screen takes imported EPISTAR chips,automatically control open&close. High level of illumination, waterproof IP65 anti-corrosion& oxidation resistance, long life-span, and high refresh frequency , and easy to maintain.
7. DIP LED encapsulation confirm the high brightness even under strong sunlight.
China FAW outdoor led video truck Specification:
---
| | | | |
| --- | --- | --- | --- |
| Vehicle name: | FAW LED advertising vehicle | Vehicle model: | JDF5040XXCCQ5 |
| Emission Standards: | Eruo 5 | Chassis model: | CA1047P40K50L1BE5A84 |
| Environmental protection announcement: | Have | Dimensions (mm): | 5995*2030*2980 |
| Fuel type: | Diesel | Cargo compartment size (mm): | 4150*2000*1990 |
| Total mass: (kg) | 4495 | Tire specifications: | 7.00-16LT |
| Curb weight: (kg) | 4300 | Rated passengers: | 2,3 people (including driver) |
Bodywork configuration ( standard )
Color screen material:
Fully waterproof and shockproof outdoor HD color screen
Monochrome screen material:
Single red screen
Computer brand:
Huntkey I4 high-end industrial control computer
Amplifier:
Yvette Broadcast Amplifier
Audio brand:
Wanda waterproof column
Floor material:
Aluminum pattern non-slip floor
Interior materials:
High temperature resistant FRP sandwich panel
Cabinet material:
5CM conforms to the steel frame box
power supply system:
High-performance on-board silent generator set
Electronic control system:
Safe and intelligent internal and external network automatic switching
Media control system:
Gigabit network card amethyst player
ventilation system:
Powerful exhaust fan + exhaust skylight
Generator set power:
Optional : 8KW generator set for single screen , 15KW generator set for dual screen
Hydraulic lifting system:
Optional equipment : high-precision electronically controlled hydraulic track automatic lifting
Hydraulic automatic stage:
Optional equipment : the standard stage area is 10 square meters ( can be increased to 16 square meters )
advertising car accessories display:
---

Outdoor LED HD color display:
---

Standard upper box configuration:
---
| | | | |
| --- | --- | --- | --- |
| ⑴Box material: | 5CM conforms to the steel frame box | ⑵ Interior materials: | Optional aluminum pattern plate or FRP |
| ⑶Electronic control system: | Safe and intelligent internal and external network automatic switching | ⑷Ventilation system: | Power exhaust fan exhaust skylight |
| ⑸Amplifier brand: | Yvette Broadcast Amplifier | ⑹Audio brand: | Wanda waterproof column |
| ⑺ LED color screen: | Imported wick outdoor HD waterproof and shockproof | ⑻Monochrome subtitle screen: | Shenzhen Meiyadi P10 screen |
| ⑼Screen cabinet: | Waterproof and heat-proof ventilation safety box | ⑽Screen power supply: | High temperature brand power box |
| ⑾Roller light box: | 3C grade tempered glass + remote roller | ⑿ Screen cable: | Bold copper wire |
| ⒀Hydraulic stage: | Optional 4-10 square meters | ⒁Lifting system : | Optional hydraulic lifting or electronically controlled lifting |
| ⒂Media playback system: | Optional Amethyst, Nova, Carlet | ⒃ Floor material: | Optional wooden floor or aluminum pattern board |
| ⒄Optional power supply system: | Optional generator or battery power supply | ⒅ Industrial control system: | Optional industrial control computer or video player |
| ⒆External power supply: | Military fast interface and copper wire cable | ⒇Operating platform: | Optional fixed suspension cab operation |
Optional parameter of LED screen(according to box dimension):
---
Wheelbase(mm)

Screen size

2765

P8:2304*1408=3.24m2,P6:2304*1345=3.1m2

2800

P8:2560*1536=3.93m2,P6:2496*1536=3.83m2

rear monochromatic screen:960*1280=1.64m2

P8:2304*1536=3.54m2,P6:2496*1536=3.83m2

rear monochromatic screen:960*1280=1.64m2

3300,3308,3360

P8:3840*1792=6.88m2,P6:3840*1728=6.65m2

rear monochromatic screen:1280*1440=1.84m2

3800

P8:4864*2048=10m2,P6:4800*2112=10.13m2

rear monochromatic screen:1600*1600=2.56m2

4700

P8:5376*2304=12.38m2,P6:5376*2304=12.38m2

rear monochromatic screen:1600*1600=2.56m2
advertisement publicity vehicle Field of use:
---

led tv screen truck Composition structure:
---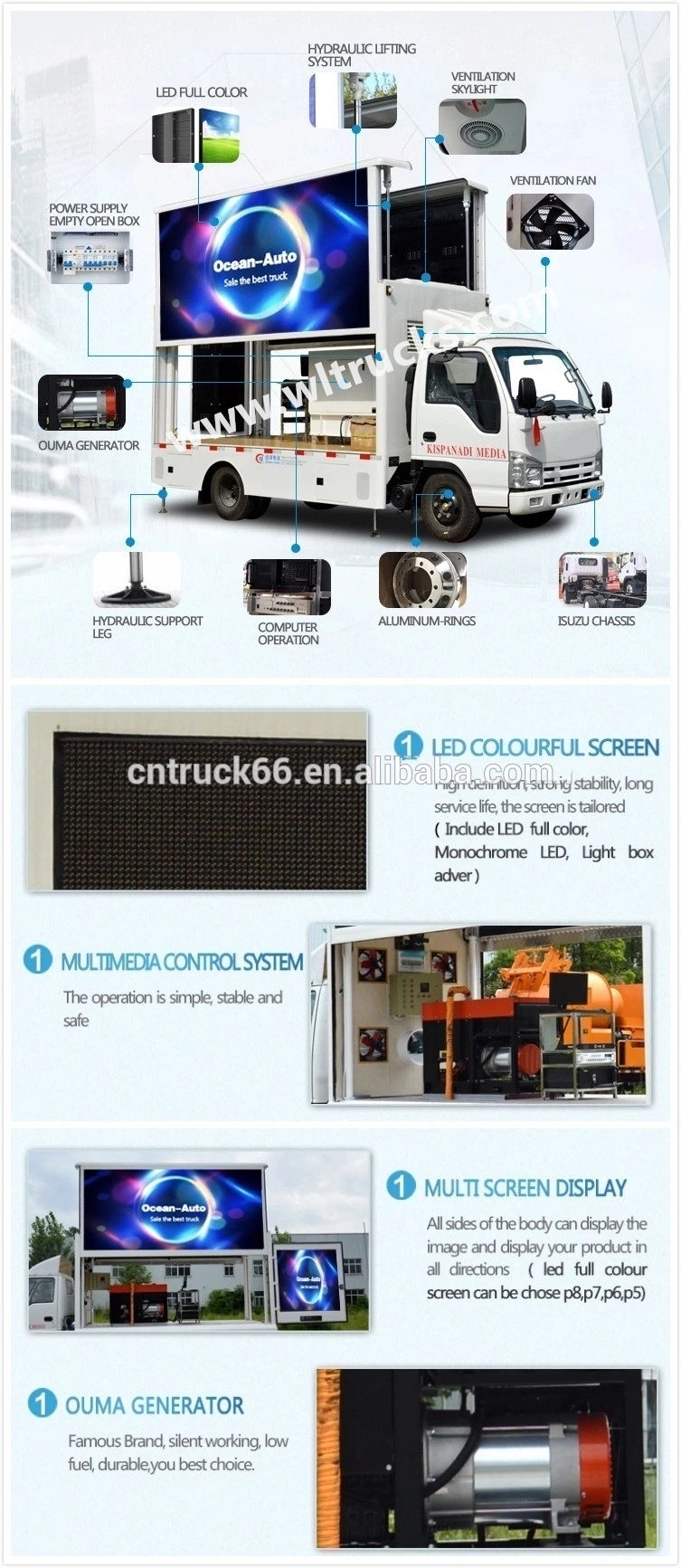 detailed picture:
---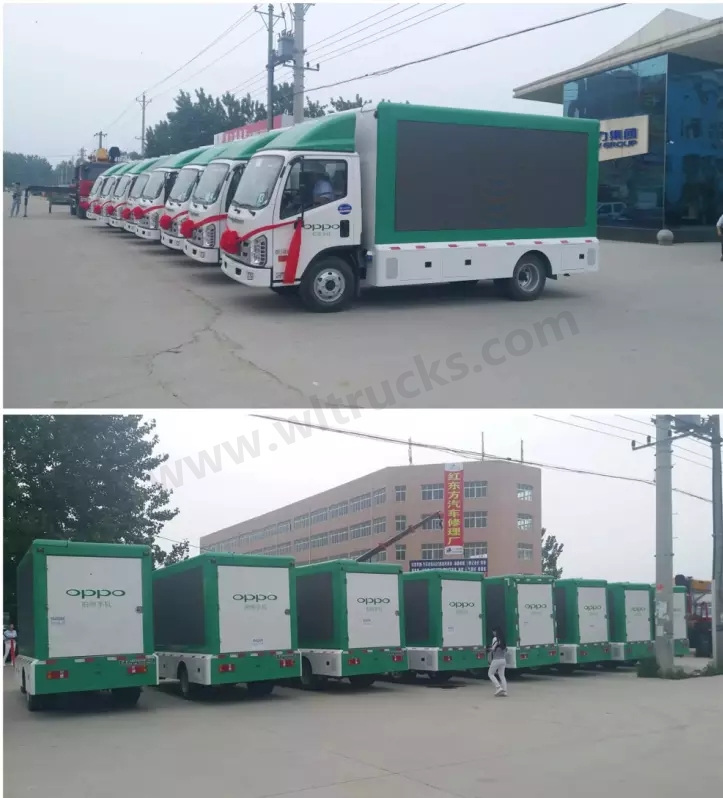 led billboard truck
Optional Type:
---