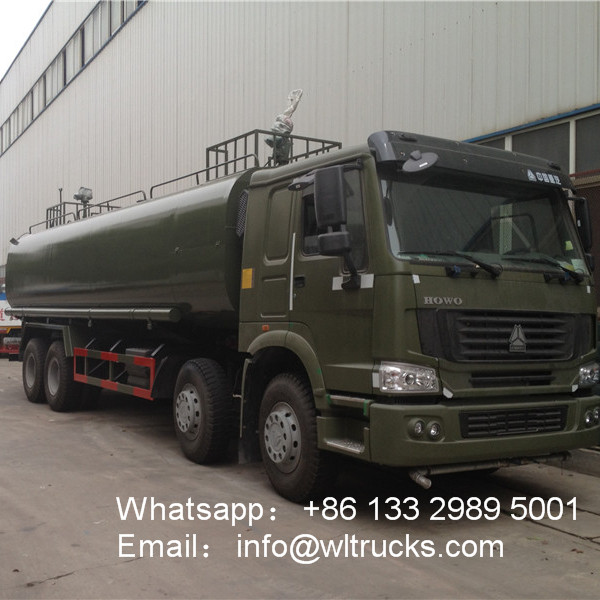 8×4 Sinotruk Howo 25000 liter fire water truck is modified by Sinotruk ZZ1317N4667E1B chassis, flat-head single row with horizontal cab, Sinotruk 371 horsepower engine, Euro III emission standard, tank volume 21 cubic meters, maximum 25 cubic meters, front flush, rear sprinkler, side Spraying, rear working platform with green sprinkler; self-priming and self-draining, front flushing, rear spraying, side spraying, rear working table with high-pressure gun, high-pressure gun water spray can be adjusted into columnar and mist, equipped with large Power-specific Hangzhou Weilong sprinkler pump, with fire-fighting joint, self-flow valve, tank body made of 4 mm high-quality carbon steel, with 2 4 m long suction pipes.
optional working platform behind the tank, fire pump can be placed in the tank without equipment box.
Product Specifications:
---
Approach / departure angle

Front overhang / rear overhang

[Chassis technical parameters]

GB17691-2005 country V, GB3847-2005

China Heavy Duty Group Co., Ltd.

Flat-pan all-metal enclosed cab with panoramic curved windshield. Optional new front cover, front bumper, front combination light, door and window, front under cover, optional reinforced large bumper.

It is made of high-quality carbon steel material, welded structure, vertical and horizontal anti-sway plate, and treated with high-tech anti-corrosion. Stainless steel is available.

The rear pump, the left and right sides of the pump room, and the left and right sides of the equipment box have new high-strength aluminum alloy rolling shutter doors.

Aluminium profiles produced with the introduction of European technology 

Built

 access technology manufacturing tower, the whole structure riveting.
---
8×4 Sinotruk Howo 25000 liter fire water truck detail structure diagram:

---
1. Equipment layout
| | |
| --- | --- |
| 1 | According to the actual needs of firefighting, according to the firefighting operation procedures, take it nearby. |
| 2 | Use special jigs for anti-corrosion, anti-vibration, anti-shedding and anti-scratch. |
| 3 | Signs are eye-catching, multi-person operation, non-interference. |
2. Equipment and equipment (standard)
| | | | | | |
| --- | --- | --- | --- | --- | --- |
| 1 | straw | 150×4 meters | 2 | root | Threaded |
| 2 | Water filter | FLF150 | 1 | Piece | Threaded |
| 3 | Trap | FII80/65×3-1.6 | 1 | Piece | Internal button |
| 4 | Water trap | JII150/65×2-1.0 | 1 | Piece | Internal button |
| 5 | Hose | 13-65-20 | 6 | plate | Low pressure; |
| 6 | Hose | 13-80-20 | 6 | plate | Low pressure; |
| 7 | Reducing interface | KJ65/80 | 2 | Piece | Internal button |
| 8 | Water-retaining cloth | DT-SB | 4 | Piece | |
| 9 | Hose hook | | 4 | Piece | |
| 10 | Ground fire hydrant wrench | QT-DS1; length 400 | 1 | Piece | |
| 11 | Underground hydrant wrench | Long 860 | 1 | Piece | |
| 12 | Suction pipe wrench | FS100 | 2 | Piece | |
| 13 | DC switch water gun | QZG3.5/7.5; 65 | 1 | support | Low pressure; |
| 14 | DC Flowering Water Gun | QZK3.5/7.5; 65 | 1 | support | Low pressure; |
| 15 | Foam gun | PQ4/0.7Z | 1 | support | |
| 16 | Foam pipette | 40*2700 | 1 | Piece | |
| 17 | Fire bucket | | 1 | Pc | |
| 18 | Fire extinguisher | 3㎏ | 1 | With | |
| 19 | Fire waist axe | Length 390; GF-285 | 1 | Piece | |
| 20 | Rubber hammer | | 1 | Piece | |
| twenty one | Rechargeable portable lighting | | 1 | Piece | |
Optional fire equipment table:
---
| | | | | | |
| --- | --- | --- | --- | --- | --- |
| Serial number | name | specification | Quantity | unit | Remarks |
| 1 | Automatic charging device | 24V | 1 | set | |
| 2 | Air backrest | | 3 | set | |
| 3 | Air breathing apparatus | Number of members | | set | |
| 4 | Hose bridge | rubber | 2 | vice | |
| 5 | Telescopic ladder | | 1 | vice | |
| 6 | Hand pump | | 1 | station | |
| 7 | Breaking tools | | 1 | set | |
| 8 | Other fire equipment | | | | |
Fire truck equipment diagram:
---