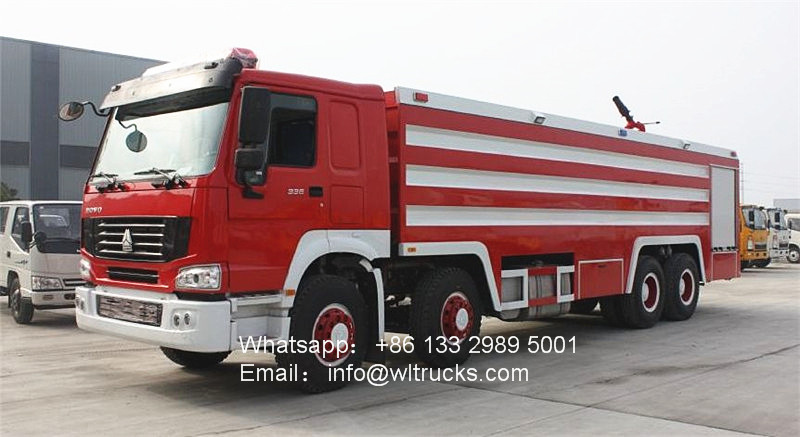 8×4 Sinotruk howo 25 ton 25000L rescue fire truck is modified from the heavy truck HOWO ZZ5437V4667E1 chassis. The vehicle consists of two parts: the firefighter's passenger compartment and the body. The passenger compartment is a row and a half structure, which can seat 2 people.With exposed tank structure, the front of the car body is a water tank and the rear is a pump room.
The liquid carrier tank is made of high-quality carbon steel, with epoxy primer and epoxy asphalt paint sprayed inside. It is elastically connected to the chassis and has a water capacity of 25,000L. The pump has a rated flow of 60L/S.
Product Specifications:
---
| | | | |
| --- | --- | --- | --- |
| ehicle model | CLW5410GXFSG240 type water tank fire truck | Chassis model | ZZ5437V4667E1 |
| engine | Sinotruk 380hp engine/276KW | Emission Standards | Eruo 3 |
| Outside dimensions | 11900×2485×3635mm | Wheelbase | 1800+4600+1350mm |
| Carrier volume | 25000L | Tank size | 7060×2380×1450 |
| Fire Pump | Shanghai Xiongzhen CB10/60 | Fire cannon | Chengdu West PS60W |
| Fire pump rated flow | 60L/s 1.0MPa | Environmental protection/exemption | Yes/To be released |
| Rated flow of fire monitor | 60L/s 1.0MPa | Fire gun range | Water≥70m |
other:
Brake system: service brake system, dual-circuit air pressure brake: parking brake, spring energy storage brake: auxiliary brake, engine exhaust brake. Minimum turning radius ≤19m
Overall layout: The vehicle consists of two parts: the firefighter's cabin and the body. The body is arranged in a three-piece structure. The front part is the equipment box, the middle part is the water tank, and the rear part is the pump room. The tank body is a parallelepiped box-type container. tank.
PTO
Structure and form
Integral box type, full power, sandwich type, forced adjustable circulating water cooling, splash oil lubrication
Cab
Structure type
The overall four-door double-row flat head, additional crew room, a total of 6 people can be seated, the driver position is left
Equipped with fire-fighting facilities
The instrument panel of the original car is equipped with a fire control instrument panel and a police light control box, which is equipped with 1. an alarm; 2. a power take-off control switch and an indicator lamp; 3. an additional power switch;
Equipment box
Structure and form
The main frame structure is welded with high-quality square tubes, and the outer decorative plate is welded with carbon steel plates. The roof is non-slip and can be walked on. (Aluminum alloy square tube welding can be used according to user needs)
Equipment box
The equipment box is located at the rear of the passenger compartment, with aluminum alloy rolling doors on both sides and lighting lamps inside. Storage boxes are set in the equipment box room according to demand. The side skirt is equipped with a tool box and a roller shutter door, where small tools can be placed.
Container
Material
High-quality carbon steel with a thickness of 5mm (can be made of stainless steel and PP according to user needs)
Jug
Manhole: one DN460 manhole, with quick lock/open device
overflow port: one DN65 overflow port, one
surplus water outlet: one DN40 water tank for surplus water outlet, and a ball valve
water inlet: in the water tank Connect a DN80 interface
water inlet and outlet on the left and right sides : set a water tank to the water inlet pipe of the pump, DN150 valve, pneumatic and manual control, set a water pump to the water tank filling pipe, DN65 valve, pneumatic and manual control
Foam tank
Manhole: one DN460 manhole, with quick lock/open, automatic pressure relief device
overflow port: one DN40 overflow port one
excess liquid port: one DN40 foam tank to discharge excess liquid
port :Set a DN40 foam tank to the water pump out of the foam tube
Volume
Water tank: 8000kg
Pump room
Structure and form
The pump room is located at the rear of the vehicle, with aluminum alloy rolling doors on both sides and the back, with lights inside, and some common equipment can be placed on both sides of the pump room
Equipped with fire-fighting facilities
Water filters, water collectors, water distributors, water guns, reducers, suction pipe wrenches, etc., can also be equipped according to special needs: such as hand-lifted motor pumps, fuel heaters, etc.
Ladder
Ladder and handle
The rear ladder is made of aluminum alloy two-section flip ladder. It is not more than 350mm away from the ground when in use. The handle on the car is made of non-slip round steel pipe with grooved surface and the surface is sprayed with plastic.
Fire Pump
model
CB20.10/30.60 type medium and low pressure vehicle fire pump
Structure and performance
structure
Atmospheric centrifugal
performance
Low pressure
60L/s @1.0MPa
Diversion time ≤50, the maximum suction depth is 7m
Medium pressure
30L/s @2.0MPa
Water diversion device
Built-in sliding vane pump
Fire cannon
model
PS60W
Range
 Water≥70m
flow
60L/S
Maximum elevation/depression angle
: Depression angle ≤-15°, elevation angle ≥+45°
Rotation angle
Water and foam dual purpose fire monitor, 360° horizontal rotation
Piping system
Pipe material
High-quality seamless steel pipe
Suction pipe
There is a DN150 suction port on the back side of the pump room
Water injection line
There is a DN80 water injection port on the left and right sides of the water tank, and a DN65 water pump is installed in the pump room to inject water into the tank
Outlet pipe
There are 2 DN65 and 1 DN80 water outlets on the left and right sides of the pump room, with shut-off valve and ampoule
Cooling water pipeline
Cooling water pipeline and control valve with cooling power take-off
Electrical system
Additional electrical
Set up an independent circuit
Auxiliary lighting
Firemen's room, water pump room and equipment box are equipped with lights respectively, and lighting and indicator lights are set on the control panel
Strobe light
Install red and blue strobe lights on both sides of the body
Warning device
Long row of red warning lights, installed on the top of the cab. Siren, the control box is under the driver's front
Fire field lighting
Install a 35W fire searchlight at the back of the jacket
Control system
Cab control
Water pump disengagement, warning light alarm, lighting and signal device control, etc.
Pump room control
Bodywork main power switch, parameter display, status display
Optional part
With sprinkler function: front flushing, rear sprinkling; rear roof lighting; standard CB10/60 type normal pressure pump, optional CB20.10/30.60 medium and low pressure pump, etc.
8×4 Sinotruk howo 25 ton 25000L rescue fire truck
detail structure diagram:
---

Fire equipment table:
---
| | | | | | |
| --- | --- | --- | --- | --- | --- |
| Serial number | name | specification | Quantity | unit | Remarks |
| 1 | straw | 125×4 meters | 2 | root | Threaded |
| 2 | Water filter | FLF125 | 1 | Piece | Threaded |
| 3 | Trap | FII80/65×3-1.6 | 1 | Piece | Internal button |
| 4 | Water trap | JII125/65×2-1.0 | 1 | Piece | Internal button |
| 5 | Hose | 13-65-20 | 6 | plate | Low pressure; |
| 6 | Hose | 13-80-20 | 6 | plate | Low pressure; |
| 7 | Reducing interface | KJ65/80 | 2 | Piece | Internal button |
| 8 | Water-retaining cloth | DT-SB | 4 | Piece | Internal button |
| 9 | Hose hook | | 4 | Piece | |
| 10 | Ground fire hydrant wrench | QT-DS1; length 400 | 1 | Piece | |
| 11 | Underground hydrant wrench | Long 860 | 1 | Piece | |
| 12 | Suction pipe wrench | FS100 | 2 | Piece | |
| 13 | DC switch water gun | QZG3.5/7.5; 65 | 1 | support | Low pressure; |
| 14 | DC Flowering Water Gun | QZK3.5/7.5; 65 | 1 | support | Low pressure; |
| 15 | Fire extinguisher | 3KG | 1 | With | |
| 16 | Fire waist axe | Length 390; GF-285 | 1 | Piece | |
| 17 | Rubber hammer | | 1 | Piece | |
| 18 | Rechargeable portable lighting | | 1 | Piece | |
Optional fire equipment table:
---
| | | | | | |
| --- | --- | --- | --- | --- | --- |
| Serial number | name | specification | Quantity | unit | Remarks |
| 1 | Automatic charging device | 12V | 1 | set | |
| 2 | Air backrest | | 3 | set | |
| 3 | Air breathing apparatus | Number of members | | set | |
| 4 | Hose bridge | rubber | 2 | vice | |
| 5 | Telescopic ladder | | 1 | vice | |
| 6 | Hand lift the pump | | 1 | station | |
| 7 | Breaking tools | | 1 | set | |
| 8 | Other fire equipment | | | | |
Fire truck equipment diagram:
---