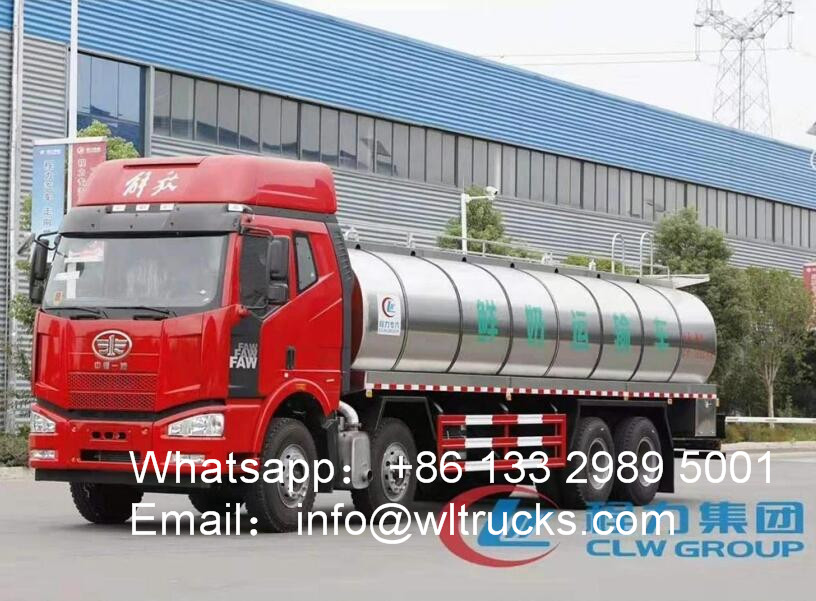 8×4 FAW 25000 liter to 30000liters milk/Cooking oil transport tanker truck Adopt 8×4 FAW J6 cab, Dachai 340 horsepower engine, 10 speed gearbox. The volume of the tank is 25 cubic meters, and the internal size of the tank is 9000×2150×1530 (mm). The standard sub-bin is Three warehouse, and each warehouse has a self-flow outlet.
milk tanker truck advantages:
---
1. Tank material: stainless steel 304-2B, food grade material. All pipes and valves are made of stainless steel.
2. 80mm Polyurethane foam to keep temperature to prevent milk spoilage.
3. Equipped with CIP cleaning device to clear the inner side of tank to keep it clean.
4. Support transportation medium: Milk, drinking water, cooking oil , beer , maltose, maltose, ice cream
5. Optional compartments, installation of pumps, flowmeters, etc.
Tank manufacturing standards:
---
The tank body is composed of an inner tank, a heat preservation layer, and a heat preservation layer protection layer:
1. The liner is made of 3mm thick 304 food grade stainless steel, seamlessly welded and finely polished. The tank is equipped with a wave structure anti-wave plate, which has strong impact resistance.
2. The PIC automatic cleaning system is used in the tank, and the cleaning device rotates 360 degrees in all directions. It can clean any dead corners in the tank to achieve the best cleaning effect. A special heat preservation milk storage tank. Insulation performance, hygiene standards can reach the domestic advanced level.
3. The tank insulation layer uses 8cm thick polyurethane, the density reaches 32~35 kg/cubic, to ensure that the temperature rise and fall within 24 hours during transportation is less than or equal to 1 degree. Ensure the quality of fresh milk during transportation.
4. The outer layer of the tank belongs to the protective layer of the thermal insulation layer, which is made of stainless steel plate, which is light-weight, light weight and good strength.
5. There is a vent valve on the top of the tank to automatically adjust the opening to reduce the evaporation loss of the liquid and prevent the tank from deforming when positive and negative pressures are generated in the tank.
6. It can transport and transport fresh milk, liquid food, purified water, edible oil and other media at the same time through sub-bins.
---
Milk Tanker Truck Parameters

General
Chassis Brand
FAW
Approx. Dimension
11200×2500×3350mm
GVW
31000 Kg
Curb weight
13700 kg
Cab
Cab Capacity
3 people allowed
Chassis
Drive Type
4×2, left hand drive/
right hand drive
Fuel Type
Diesel
Power
340HP
Displacement
9700ml
Emission Standard
Euro III or EURO IV or Euro V
Wheelbase/No.of axle
1900+4160+1350 / 4
Tyre Specfication
11.00R20
Tyre Number
16 tyres and 1 spare tyre
Max Speed
100 km/h
Tanker Body
Capacity
20000liters
Metarial
1.The inner is made of 4mm 304 2B Stainless Steel
2.the middle layer of the tank is made of 80mm thick polyurethane
3. The outer layer of the tank is made of stainless steel.
The temperature
The temperature rise or fall during transportation is less than or equal to 1degree whtin 24hours.
Automatic cleaning system
automatic cleaning system is adopted in the tank, and the cleaning device rotates 360degress to ensure no residual milk.
Valve and
pipeline
All valves and pipeline are made of stainless steel
Milk tank truck detailed picture:
---