6×4 Dongfeng 16m3 18m3 compactor garbage truck Product Description:
---
6×4 Dongfeng 16m3 18m3 compactor garbage truck Chassis configuration: 6 * 4 rear dual-axle drive, new wide body white cab, Yuchai 240 horsepower, Cummins 210 horsepower engine, Fast 8-speed gearbox, electric windows, original air conditioning, power steering, air brake 1,000 tires with spare tires.
6×4 Dongfeng 16m3 18m3 compactor garbage truck Bodywork configuration: Compressed volume 18 cubic meters, made by T420 special steel plate integral bending, equipped with Xiamen Yinhua hydraulic cylinder oil leakage replacement, Changyuan 63 + 20 double hydraulic pump with 3 + 2 double valve, Zhongmei multi-way valve, Siemens PLC control, electro-optic switch, 2 sewage collection boxes, 3 operation control boxes, with night light, equipped with two-way compression function, two-way hydraulic lock dripping.
6×4 Dongfeng 16m3 18m3 compactor garbage truck Optional configuration: optional double pump confluence + double valve control, optional hanging bucket rack, triangle bucket, fully sealed bucket, swing arm device, can hold 16-18 tons of garbage.
6×4 Dongfeng 16m3 18m3 compactor garbage truck Specifications:
---
cabin
Driving type 6×4
with A/C. Left/right Hand Drive.
Vehicle Main Dimensions
Overall dimensions (L x W x H)mm
10090*2500*3700
Wheel base (mm)
4350+1350mm
Weight in KGS
Tare Weight
15000kg
Front axles loading capacity
5000kg
Rear axles loading capacity
10000kg
Max. driving speed(km/h)
95
Engine
Brand
Cummins
Horse Power(HP)
245 HP
Emission standard
Euro V
Gearbox
8 forwards &1 reverse
Clutch
Diaphragm spring clutch
Steering Gear
Power steering
Tire
11.00R20 All radial tires with one spare, 11 pieces
Compression garbage box body system
Body Volume
20m3
Material Thickness
5mm
Cycle Time of Filling(S)
25-30s
Lifting Time of Filler(S)
8-10
Time of Discharging
40s
Working Pressure(MPA)
16
Composed by hermetic garbage tank, hydraulic system, operation system. The entire truck is hermetic, can automatically compress and dump the garbage .and the sewage generated in the process of the compression all go into the sewage tank.
6×4 Dongfeng 16m3 18m3 compactor garbage truck Working parameter:
---
Hydraulic pump
Long source large flow 32-80 pump, optional double pump and double valve
Body material
High strength T420 special steel plate
Hydraulic cylinder
Xiamen Yinhua, Yantai Future
Box thickness
Lightweight design with 4mm at the bottom and 5 sides
Multi-way valve
Jiangsu Zhongmei, Italy imports
Sewage tank
2 (1 on the side and 1 on the rear)
Conversion mode
Photoelectric switch (formerly pressure relay)
Sewage seal
Tail diversion groove + rubber hydraulic lock
Automatic control
Standard configuration, Siemens PLC electronic control
Lighting device
Tail night light
Electric control box
3 (1 in the cab and 2 in the rear)
safety devices
Tail lift with hydraulic lock
Optional configuration
Hanging plastic buckets (120L, 240L, 360L, 480L, 660L), hanging iron buckets, triangle buckets, fully sealed buckets, swing arm racks, electric hydraulic system
6×4 Dongfeng 16m3 18m3 compactor garbage truck New craft:
---

6×4 Dongfeng 16m3 18m3 compactor garbage truck Detailed Images: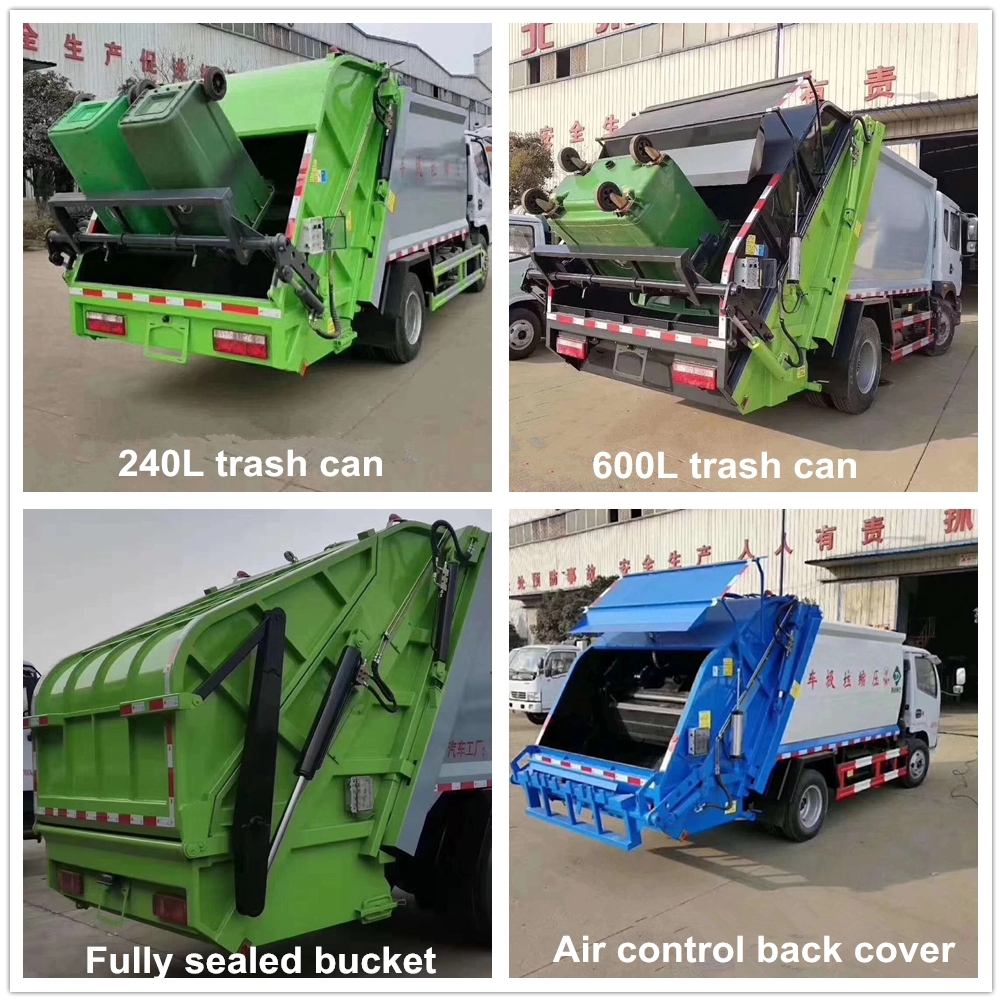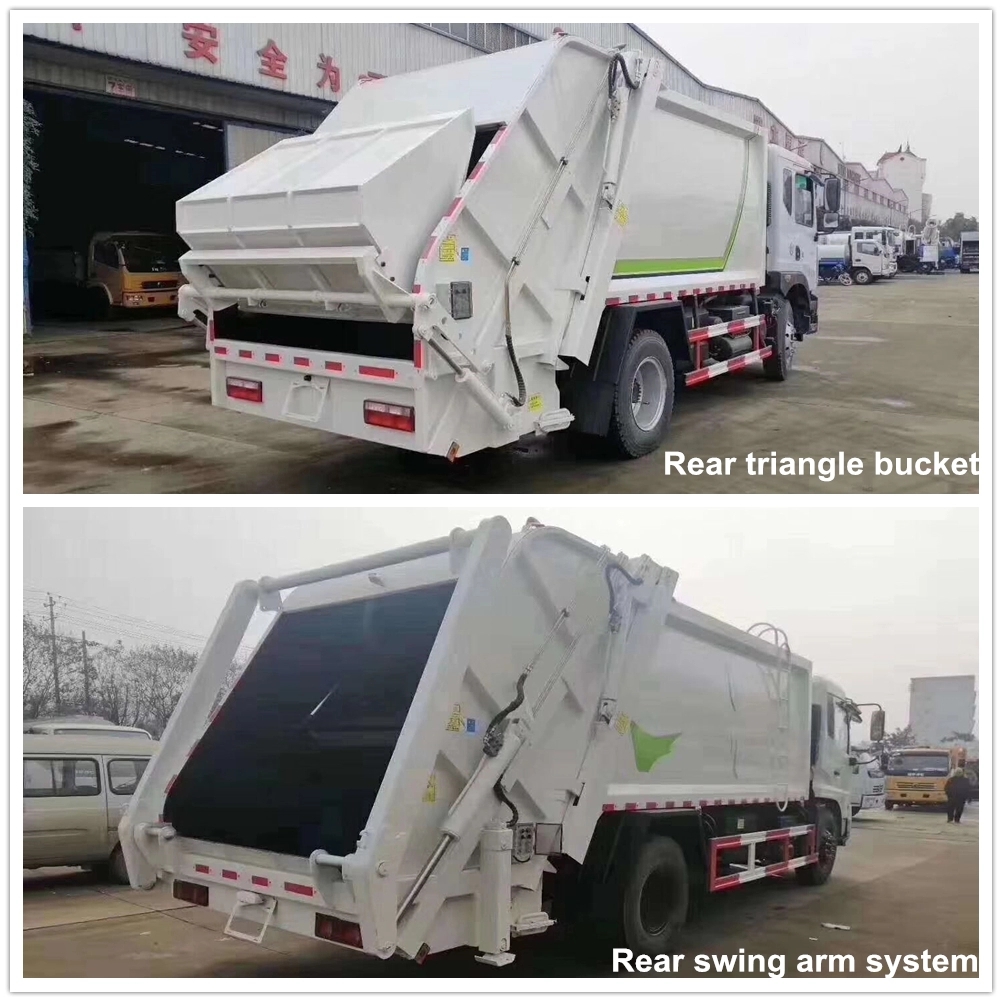 6×4 Dongfeng 16m3 18m3 compactor garbage truck Structure diagram:
---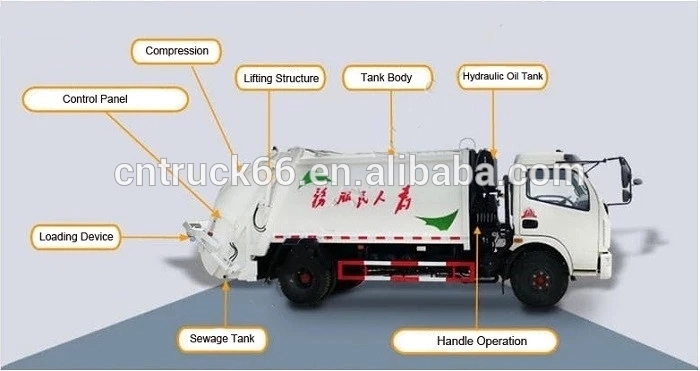 6×4 Dongfeng 16m3 18m3 compactor garbage truck Detail drawing:
---

Customizable garbage truck models
---