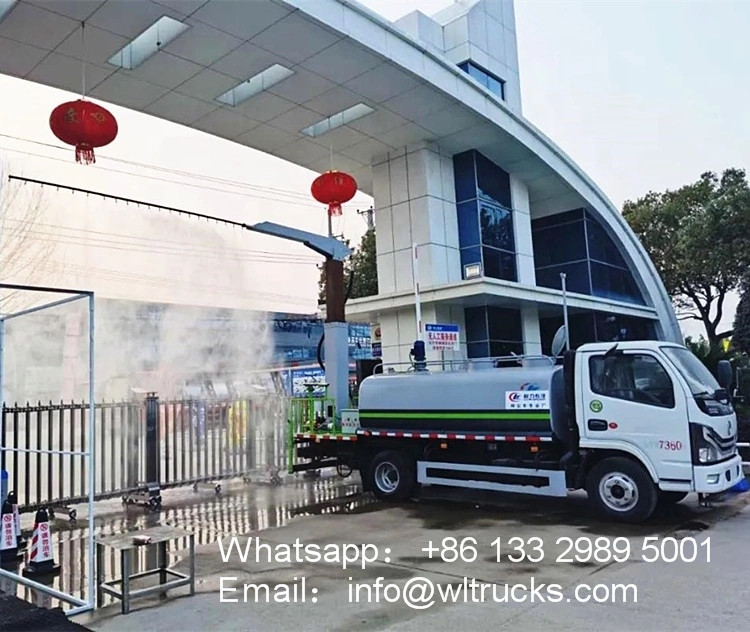 5000L Mobile vehicle disinfection tunnel system fogger spray truck Adopt Dongfeng Duolika D6 chassis, wheelbase 3300mm, Chaochai 95 horsepower, 700-16 tires.
Top-loading configuration: The tank body is a 5-cubic circular tank, with anti-corrosion inside the tank body, front impact, rear sprinkling, side spray, anti-aircraft gun, dust suppression spray bar (with rotary telescopic function).
The spray bar is 3.5-4.5 meters above the ground, the rear platform is equipped with an 8KW auxiliary generator set, two 1.5KW electric motors (with stirring function) with heating device are added inside the tank, the tank is painted with white and blue, and the platform and spray bar are blue color. The spraying rod rotates up, down, left and right by remote control, and the electric control box is installed on the rear platform.
products introduction:
---
1. Mobile vehicle disinfection system fogger spray truck Also called railway dust suppression truck, The whole vehicle adopts full intelligent electric control operation, vehicle spray system, mixing function and rotating arm function.
2. All functions except the chassis and the water tank are self-priming and self-draining.
3. The spray system is equipped with a single-vehicle flow meter (used to measure the amount of dust suppressant sprayed by each section of train leather). The spray system is equipped with a hook stop spray system (contact induction spray, between two sections of train leather) Stop spraying), with vehicle number identification and recording functions.
4. The vehicle sprinkler system, single-vehicle flowmeter and vehicle number identification and recording functions are all connected and reacted to the intelligent computer screen.
5. When the spraying principle is in standby state. The spray arm is located above the maintenance and recovery platform parallel to the rail; when in working state, the locomotive with the bow is passed.
6. The spray arm rotates to a position perpendicular to the carriage, and at the same time adjusts the height to 30cm above the train carriage, the vehicle identification number is detected by the vehicle identification system, and under the control of the PLC, the spray drum is stopped according to the principle of the hook gear. Start the spraying operation; after the spraying is completed, the system switches to the cleaning state, the pipeline and the spray head are cleaned, and the cleaning liquid is returned to the mixing tank.
7. When the vehicle speed is running in the range of 0.5-1.0km/h, the spray control system can achieve uniform coverage of coal transport vehicles and ensure that the safety and normal operation of the locomotive vehicles are not affected.
Working parameter:
---
Front nozzle
15 meters hedge, optional duckbill forward
Tank material
Carbon steel Q345/stainless steel 304
Rear sprinkler
Fan-shaped sprinkler, more than 20 square
Thickness of tank
4-6 mm
Car side nozzle
Sprinkler water, more than 6 meters
Tank shape
Square, square, oval
Green anti-aircraft gun
Water column 28 meters, adjustable large, medium and light rain
In-tank treatment
Standard anti-rust coating, can be used for anti-acid alkali polyurea epoxy treatment
Generator set
7 kW gasoline, 30-150 kW diesel
Water way
Self-priming water, fire water injection, tank top water injection
Spray unit
30m-120m optional
Water pump brand
China pump
way to control
Electronic control + remote wireless remote control, 360 degree rotation + up and down 90 degree swing
5000L Mobile vehicle disinfection tunnel system fogger spray truck Specification:
---
| | | | |
| --- | --- | --- | --- |
| Announcement model | CLW5040TDYD5 | Environmental protection | Have |
| Vehicle wheelbase | 3308 | Exemption | Have |
| Engine horsepower | Chaochai 70KW | Mixing function | 1.5KW*2 |
| Tank volume | 5 cubic | Heating equipment | Imported from Italy |
| Drive method | Electric + hydraulic | Flow reading | Can read the flow of each car box and the flow of a single train |
| Secondary power | 8KW | Vehicle identification | Can be adapted to each train and container number |
| way to control | Siemens PLC + touch screen + wireless remote control + manual | Cleaning system | Can clean the pipeline |
| Boom height above ground | 3-4.5 meters | Emergency recovery | The boom can be recovered manually in an emergency |
| Spray method | Hook stop spray system | Job monitoring | Comprehensive operation of monitoring equipment in the cab |
Disinfection truck structure composition:
---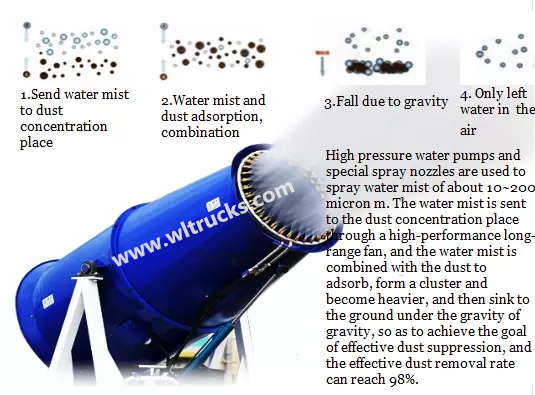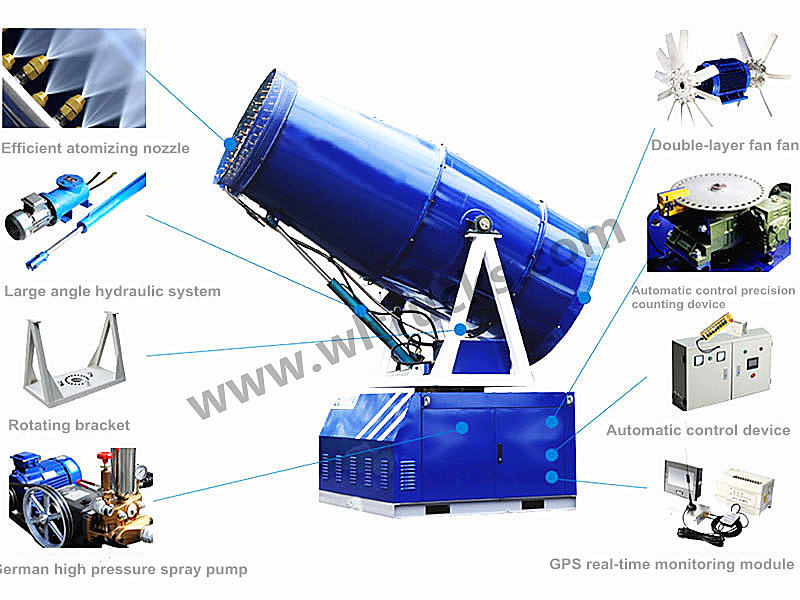 80m to 120 meters fog gun machine Specifications:
---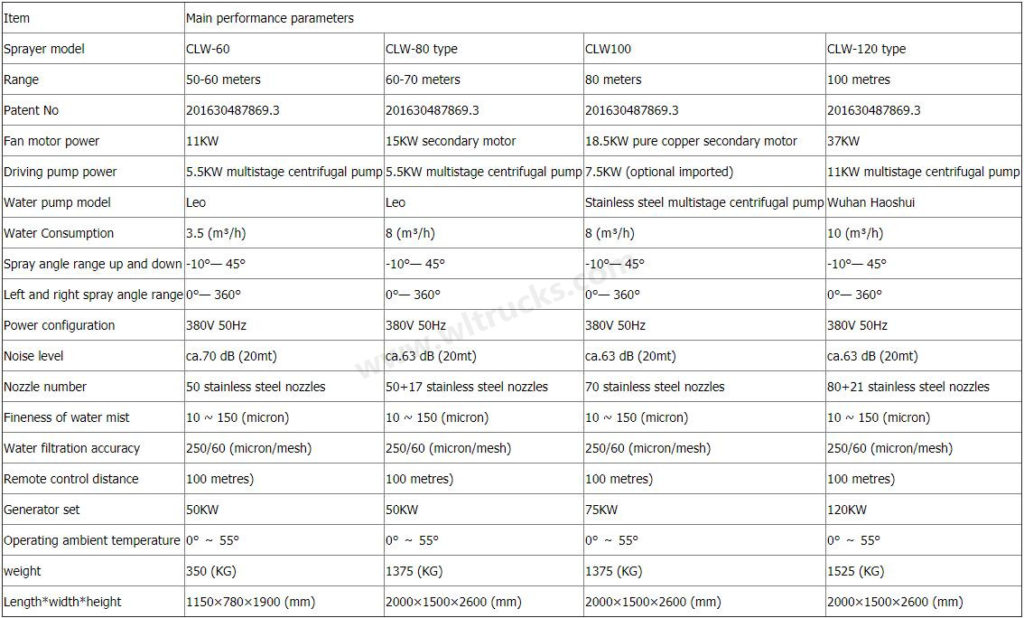 New craft:
---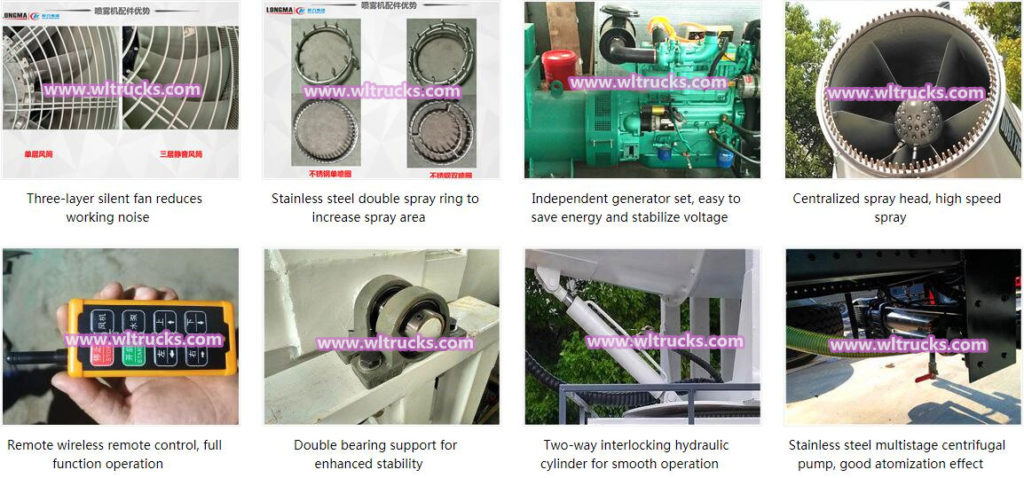 disinfectant trucks Optional configuration:
---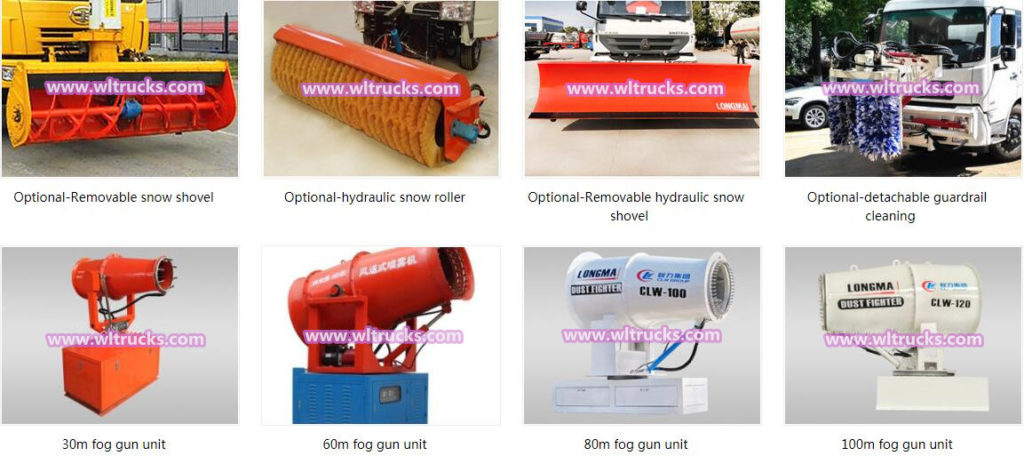 Inspection Training:
---
—- SGS, BV, COTECNA, CE certification.
—- Local engineer training support.

Free Parts:
---
— Free parts for 12 months.
—- Supply of original parts.
—- DHL serves 7 days worldwide.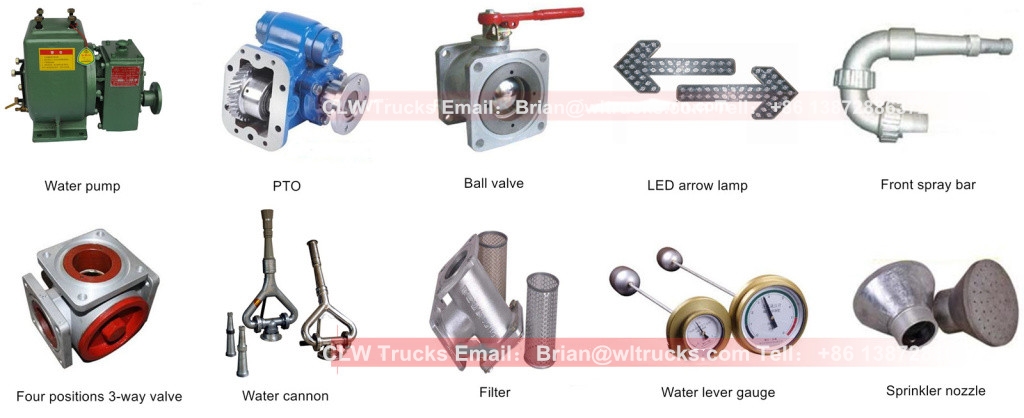 Disinfection vehicle Factory Advantage:
---
— 16 years of design and export experience.
—- 100% customized trucks.
—- Quick delivery guarantee.

Export Documents:
---
—- Serving more than 80 countries and regions.
—- Professional guidance on import documents.
—- CO, FORM E, FORM P, pre-implantation inspection …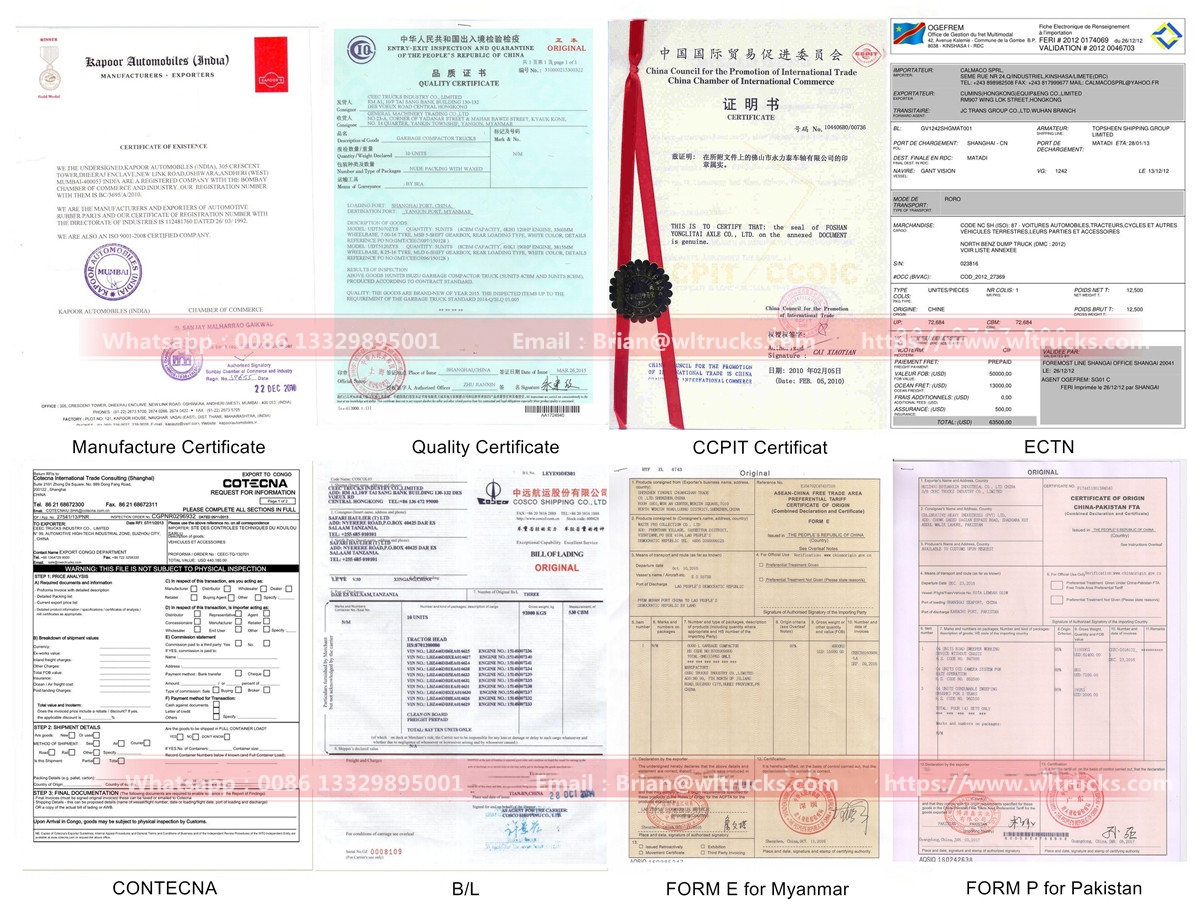 Shipping:
---
—- Maximize your shipping costs.
—- Professional guidance on import documents.
—- Safe, fast and timely

Bulk order case:
---
—- Fast shipping to all parts of the world.
—- The truck color and logo can be customized.