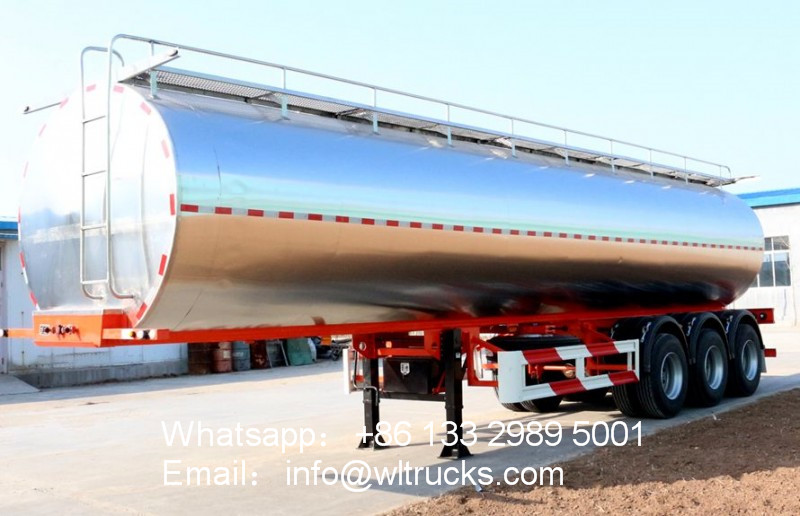 3 axis 45000 liter Stainless Steel Milk Tank Trailer Adopt 3 axis Fuhua Bridge, The volume of the tank is 40-45 cubic meters, and the internal size of the tank is 10020x2300x1600 (mm). The standard sub-bin is five warehouse, and each warehouse has a self-flow outlet.
milk tanker truck advantages:
---
1. Tank material: stainless steel 304-2B, food grade material. All pipes and valves are made of stainless steel.
2. 80mm Polyurethane foam to keep temperature to prevent milk spoilage.
3. Equipped with CIP cleaning device to clear the inner side of tank to keep it clean.
4. Support transportation medium: Milk, drinking water, cooking oil , beer , maltose, maltose, ice cream
5. Optional compartments, installation of pumps, flowmeters, etc.
Tank manufacturing standards:
---
The tank body is composed of an inner tank, a heat preservation layer, and a heat preservation layer protection layer:
1. The liner is made of 3mm thick 304 food grade stainless steel, seamlessly welded and finely polished. The tank is equipped with a wave structure anti-wave plate, which has strong impact resistance.
2. The PIC automatic cleaning system is used in the tank, and the cleaning device rotates 360 degrees in all directions. It can clean any dead corners in the tank to achieve the best cleaning effect. A special heat preservation milk storage tank. Insulation performance, hygiene standards can reach the domestic advanced level.
3. The tank insulation layer uses 8cm thick polyurethane, the density reaches 32~35 kg/cubic, to ensure that the temperature rise and fall within 24 hours during transportation is less than or equal to 1 degree. Ensure the quality of fresh milk during transportation.
4. The outer layer of the tank belongs to the protective layer of the thermal insulation layer, which is made of stainless steel plate, which is light-weight, light weight and good strength.
5. There is a vent valve on the top of the tank to automatically adjust the opening to reduce the evaporation loss of the liquid and prevent the tank from deforming when positive and negative pressures are generated in the tank.
6. It can transport and transport fresh milk, liquid food, purified water, edible oil and other media at the same time through sub-bins.
3 axis 45000 liter Stainless Steel Milk Tank Trailer Specification:
---
Main Dimensions 

Overall Length
10600mm
Overall Width
2500mm
Overall Height
3650mm
Curb Weight
10000kg
Loading Capacity
30m3
Loading Weight
30000kgs
Total Volume
30 m3
Medium
milk , drinking water , beverages
Tanker Body Material
Stainless steel of Food grade.
End plate
Stainless steel of Food grade
Lifting Ladder
Including Top walkway and backside Aluminum material
Manhole cover
2 sets with 2 breather valves
Bottom Valve
1 set
Discharging valve
1 set
Discharging Pipe
4″rubber hose, 2pcs, 6m long
Axle
3 axles
Fuwa 13 Ton
wheel base
5100+1310+1310mm
Landing Gear
C200,Two-speed, manual operating, heavy duty landing gear
King Pin
90#
Suspension
Leaf spring suspension
Pneumatic Braking System
WABCO RE 6 relay valve; T30/30+T30 Spring brake chamber
Tire
12R22.5,12pcs + 1 spare
Tank
1. Material: Stainless steel of Food grade.
2. Steel thickness (inside and separation: 4 mm minimum),Outside layer: 2.0 mm minimum,Middle layer (thermal insulation) 80 mm polyurethane foam
3. Medium temperature change≤1°C during 24 hours.
4.Pump installation: Pump will be stores in a SS cabinet with a door and lock.
5..Automatic cleaning device with rotatable sprinkler.
Milk tank truck detailed picture:
---