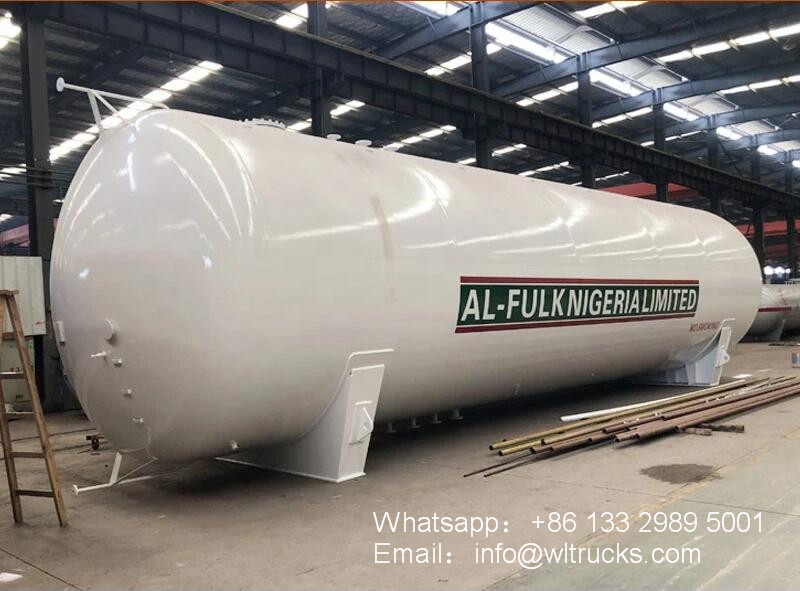 We produce 120cbm 50 ton lpg gas tank X-ray testing for every welding line and ensure 100% qualified;Hydraulic testing at pressure 2.21Mpa,Gas tightness testing,Sandblasting before painting,Two layers of Anti-corrosion painting before final painting.
China lpg storage tanks Product Description:
---
1. Storage medium:propane, butane, cooking gas, LPG,Liquid ammoina, Dimethyl ether,Iso-butane, Pentane and etc.
2. Available tank capacity : 5m³~200m³,2ton~100tons,2mt~100mt
3. Manufacturing standards: GB-150, ASME VIII Division I U STAMP, CCC, ISO9001 : 2008;
4. Optional equipments as follows, lpg pump and motor, lpg compressor, volume flow meter, filling scales and lpg dispenser, ball valves,check valves, non-return valves, glass valve, strainer, by-pass valve and so on.
120cbm 50 ton lpg gas tank specification:
---
Parameter of 120cbm 50 ton lpg gas tank
ITEM

PARAMETER

ITEM
PARAMETER
Volume
120cbm
Thickness of Shell
18mm
Tank Material
Q345R
Thickness of End plate
20mm
Overall Size
13820*3436*4026mm
Tank Net Weight
24960kg
Tank Diameter
3400mm
Loading Capacity
47880kg
Design Pressure
1.77Mpa
Gas Density
510~590kg/M3
Hydraulic Test Pressure
2.22Mpa
Corrosion Allowance
1mm
Design Temperature
-20ºC~50ºC
Heat Treatment
Bulk
Vapor Outlet
DN50
Gas Outlet
DN50
Life time
15 years
Accessories
Model
Item
Qty
Junction surface
J41N-2.5-50
Stop Valve DN50
6
RF
J41N-2.5-25
Stop Valve DN25
2
RF
J41N-2.5-80
Stop Valve DN80
2
RF
J24W-320-DN6
J24W Needle Valve M20*1.5
1
HG21584-95
Magnetic plate level Gauge UZFAL-2.5RF-3040-0.5
1
RF
A42F-25-80
Safety Valve DN80
2
RF
Y-100T
Pressure Gauge M20*1.5  1.5degree 0~4Mpa
1
WTQ-280
Thermometer M33*2 2.5 degree
1
-40ºC~60ºC
ChengLi Lpg tanks details:
---

Lpg storage tanks type exhibition:
---

lpg tanker Production Process:
---

We can supply whole package solution of lpg station building as follows
Horizontal 30tons LPG gas storage tanks
Two sets of Ex-plosive LPG pumps and motors
One set of LPG compressor
One set of flow meter
One set of air compressor
Gas leakage detector
DN25/DN50/DN80/DN100 globe valves
DN25/DN50/DN80/DN100 ball valves
DN50/DN80/DN100 Pneumatic emergency shut off valve
DN50/DN80 non-return valve
DN50 strainer
DN50 sight glass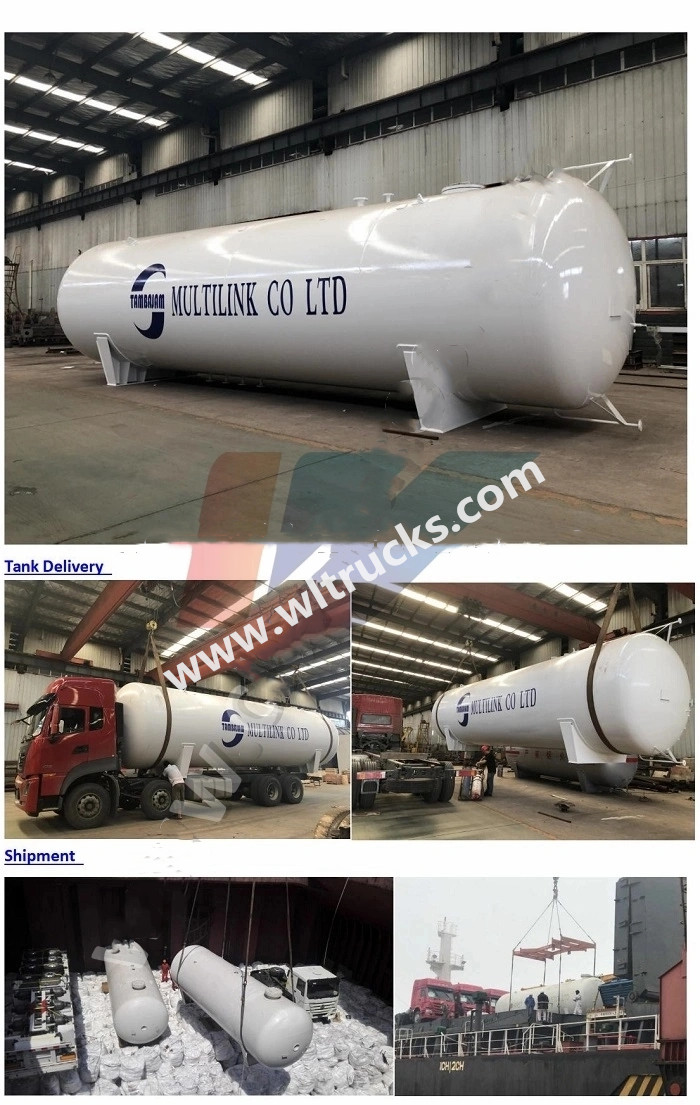 FAQ:
---
Q1: What is your product name?
A: 25tons lpg gas storage tank.
Q2: What size of lpg gas storage tank can you supply?

A: We can supply lpg gas storage tank from 5cbm to 200cbm,the most popular size is 50cbm, 60cbm, 80cbm, 100cbm and 120cbm.
Q3: What's the production standard of your lpg gas storage tank?
A: GB-150.1~4-2011 or optional for ASME VIII Division I U STAMP
Q4: Where is your factory located? Can we visit your factory?
A: Our factory is located in Suizhou City, Hubei Province, central China, which is famous for special vehicles. You can take high speed train to Wuhan railway station, Hankou railway station or Wuhan Tianhe International Airport.
Q5: What's your payment term?
A: 40% deposit by T/T and balance by T/T before shipment.
Q6: How many days can I get my the lpg gas storage tank after paying deposit?
A: Only 7 working days is needed when material is ready.Usually our delivery time is 20~25 days.
Q7: Can you supply installation service for lpg gas storage tank and station?
A: We can supply all equipments needed for lpg gas station, such as lpg pump and motor, lpg compressor, lpg dispenser, cylinder filling scales, flow meter, pipeline and all kinds of valves.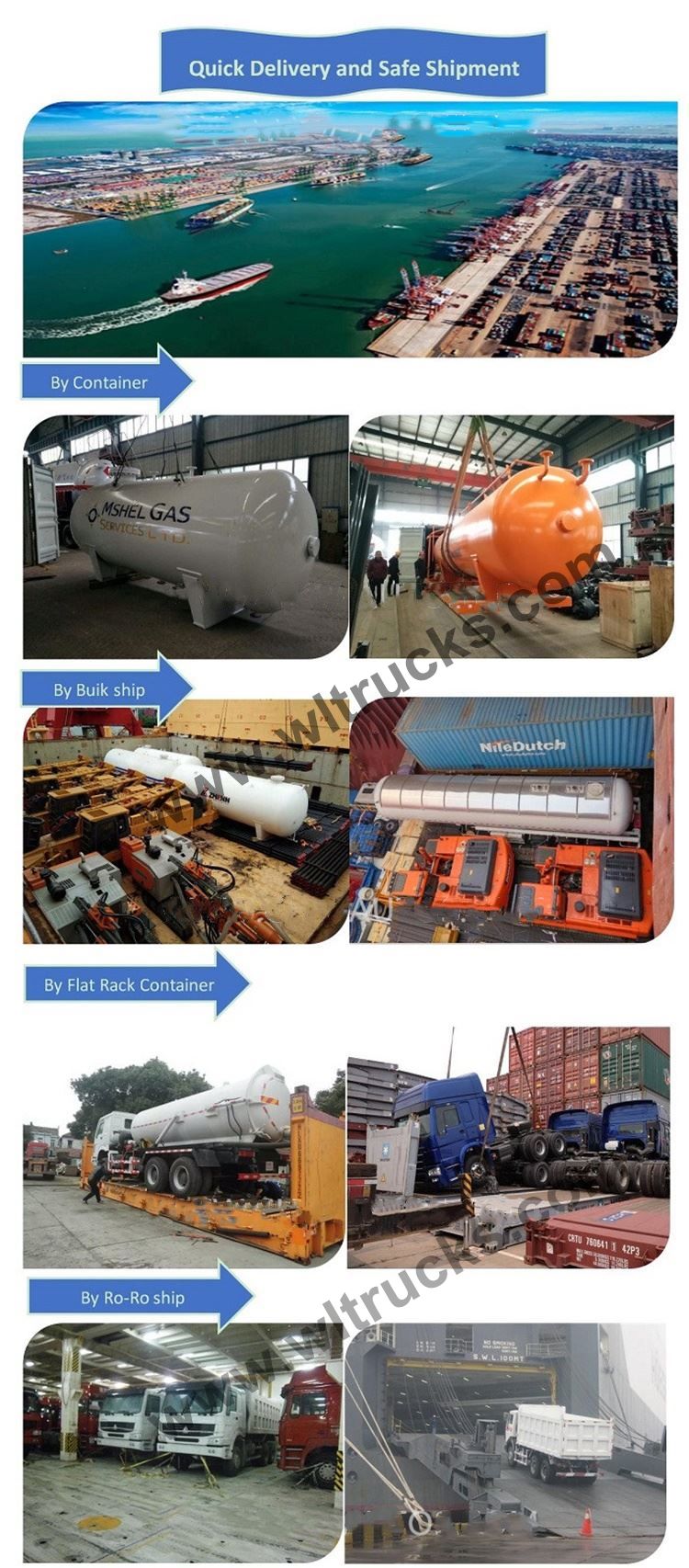 Our customers are located in 127 countries and regions around the world