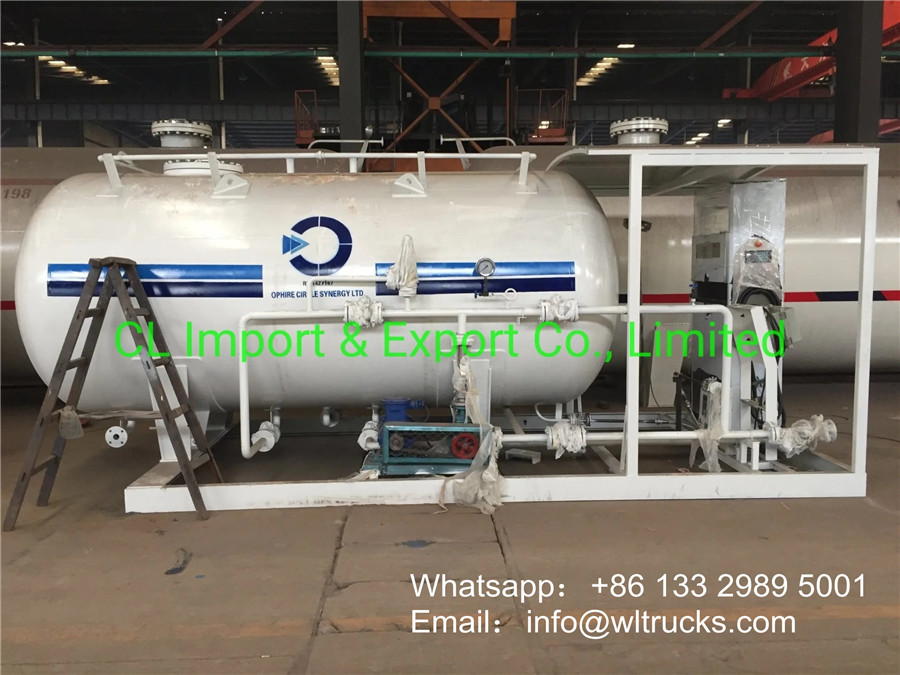 We produce 12000 liter 5 ton lpg gas station X-ray testing for every welding line and ensure 100% qualified;Hydraulic testing at pressure 2.21Mpa,Sandblasting before painting,Two layers of Anti-corrosion painting before final painting Adding steel base with the tank;Installation of pipeline,valves and other equipments,Painting of pipeline,Filling testing before delivery.
China lpg filling station Product Description:
---
1.  It is used for refilling lpg cylinders in different size such as 3kg,5kg,6kg,12.5kg and 50kg.
2.  It is designed with two major functions: Truck Discharging & Cylinder Refilling with 1 Pump
3.  It is optional for digital Filling Scale or automated filling dispenser(single nozzle or double nozzle) with Auto Filling Cut-off, Thousands of Record store, net and Gross Filling data
4. Pump of mobile filling station is optional : Vane Pump & Coro-Flo Pump, Turbine Pump, standard is Chinese brand but you can choose Corken or Blackmer Brand.
5. Motor: standard is Chinese brand but also optional for ABB or SIEMENS Brand, Static-free, 380V 3 Phase, 5.5KW to 10KW
6. Pipeline : 2″ Steel pipe with safety return valve, strainer, one-way valve, cut-off valves.
7. Explosive Proof Central Control Panel for whole 5mt lpg skid station system
8. Other Equipment : Sunshade for filling area, gas Leakage Detector,ex-proof lamp, water sprinkler system with sprinkler nozzles
12000 liter 5 ton lpg gas station specification:
---
Equipment category
Stationary pressure vessel
Varieties of pressure vessel
Storage
The product name
LPG (propane) storage tank
Product number
According to order
Equipment code
21301083820170211
Pressure vessel category
type
Product standards
GB150   NB/T47042
Designed Life Time
10 years
The Main Parameter
Vessel volume
12000Liters
container inner diameter
1800mm
The container (high)
5034×2410mm
material
shell
Q345R
Thickness
shell
10mm
Shell weight
  3360  kg
head
Q345R
head
12mm
Internal parts weight
/        kg
lining
/
lining
/  mm
Filling weight
4788   kg
jacketed
/
jacketed
/  mm
Design Pressure
Shell side
1.77MPa
temperature designed
Shell side
50 ºC
maximum allowable working pressure
Shell side
/
Tube side
/   MPa
Tube side
/   ºC
Tube side
/
jacketed
/   MPa
jacketed
/   ºC
jacketed
/
shell side medium
Liquefied petroleum gas
Tube side medium
/
Jacketed medium
/
Structural type
The main structure type
Elliptical head round tanks
installation type
Fixed horizontal installation
Supporting type
Saddle support
Insulation way
–
Test and Inspection
Method of Non-destructive Testing
RT  MT  PT
Proportion Of Nondestructive Testing
100%
Pressure Test Type
Hydraulic pressure test
test pressure
2.22MPa
Heat-treatment Method
Stress Relieving Heat Treatment
Heat-treatment Temperature
620±15ºC
Safety accessories and related equipment
  Name
   Type
   Size
   Quantity
   Self-provided
Magnetic reprint level gauge
UQZ-6
   DN1800
1
/
Safety Valve
A42F-25
DN50
1
GB12243,Pz=1.69MPa,  K=0.65
   Pressure gauge
Y-150
M20×1.5
1
1.6.0-4Mpa
  Thermometer
WTQ-280
    M33×2
1
-40ºC-60ºC,1.5
ChengLi Lpg station details:
---

Lpg skid sration type exhibition:
---

lpg lpg gas filling station Production Process:
---

We can supply whole package solution of lpg station building as follows
Medium: Liquified Petroluem Gas
Tank material: Q345R, shell 10mm,end plate 12mm
Tank Design Pressure: 1.71Mpa,
Tank Acessories: Safety Valve, Level Gauge, Water Sprinkler System, Air out Valve, Drain Valve,
Filling System:
2 Units LPG filling scales in Digital Control,
1 Units 2″  LPG pumps with 380V-3 Phase 5.5KW Explosive Motor,
1 Units Electrical Control Box with Air Switch,
1 Units Leakage Detector with 1 Sensor,
Solid Steel Base, Steel Sunshade for Filling Area,
Whole Set Pipeline System with all valves,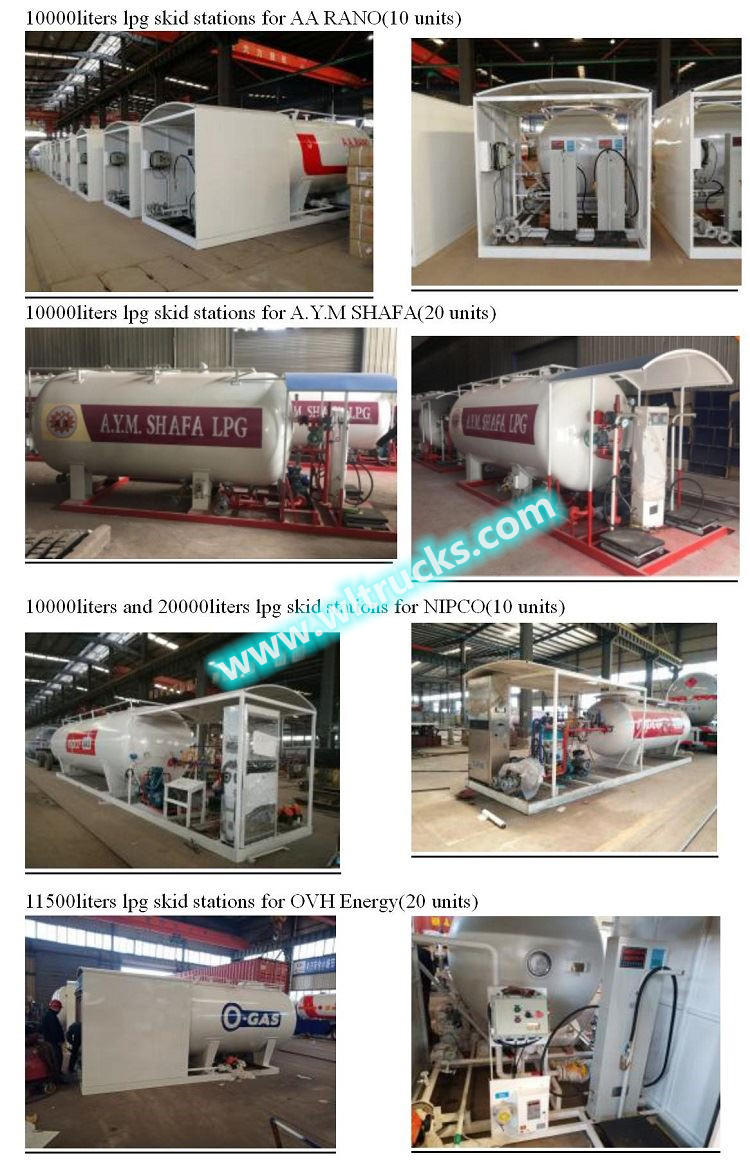 FAQ:
---
Q1: What is your product name?
A: 5000L to 200000liters lpg skid station
Q2: What size of lpg skid station can you supply?

A: We can supply lpg skid station from 5cbm to 50cbm,the most popular size is 10m3 and 20m3 lpg skid station, 5tons and 10tons lpg skid station.
Q3: What's the production standard of your lpg skid station?
A: GB-150.1~4-2011 or optional for ASME VIII Division I U STAMP
Q4: Where is your factory located? Can we visit your factory?
A: Our factory is located in Suizhou City,Hubei Province,central China,which is famous for special vehicles.You can take high speed train to Wuhan railway station,Hankou railway station or Wuhan Tianhe International Airport.
Q5: What's your payment term?
A: 40% deposit by T/T and balance by T/T before shipment.
Q6: How many days can I get my the lpg skid station after paying deposit?
A: Usually our delivery time is 30 days.
Q7: Can you offer local installation service and local after sales service?
A: The lpg skid station can be operated after arrival and we will offer guidance video of operation.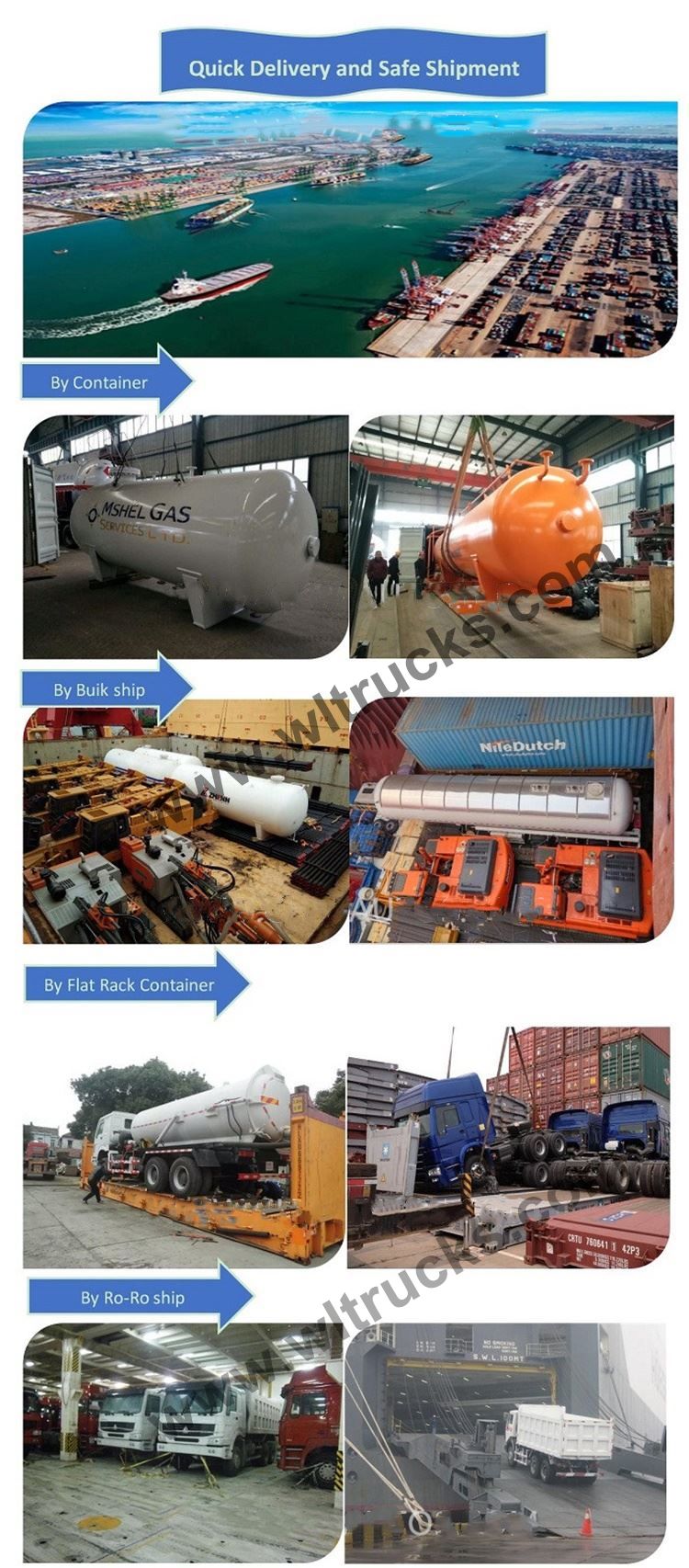 Our customers are located in 127 countries and regions around the world