10 wheel Shacman 20ton to 25ton wrecker towing truck
---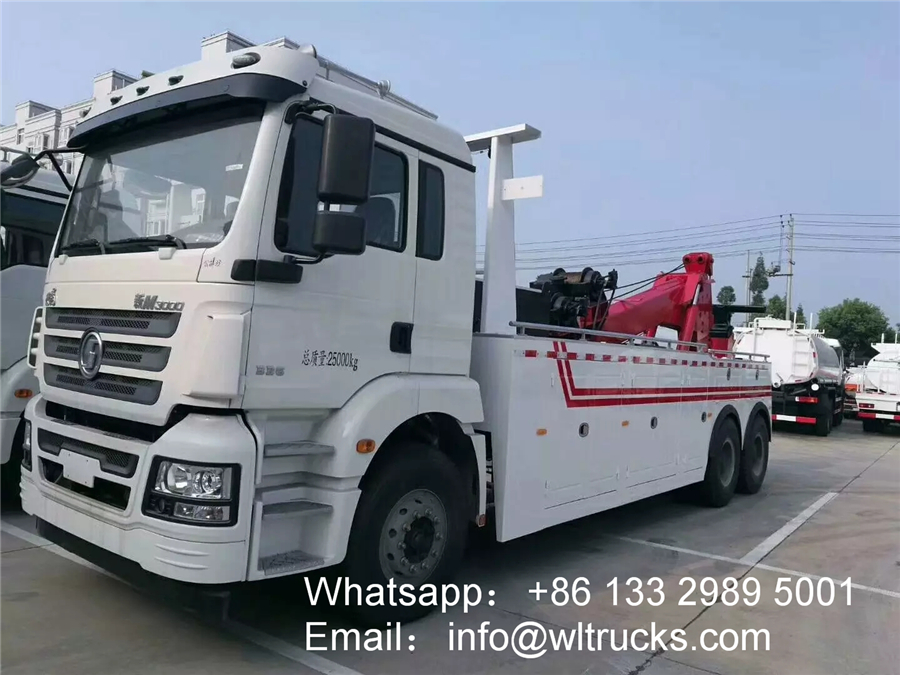 10 wheel Shacman 20ton to 25ton wrecker towing truck Chassis:
It adopts Shaanxi Automobile Delong chassis, half-row cab, Weichai 336-horsepower five engine, Shaanxi 9-speed gearbox, 12.00 steel tires, ABS, air conditioning, electric glass.
10 wheel Shacman 20ton to 25ton wrecker towing truck Bodywork:
20 ton joint bodywork, two-section hexagonal boom, three-section support arm, split carriage, imported hydraulic system, double-sided linkage operation device, and front bumper equipped with counterweights.
Two 10 ton electro-hydraulic winches, 45-meter steel wire rope, 18mm in diameter, with 4 sets of steel forks, 1 set of trailers, 1 set of steel plate lugs, 1 set of tire holding devices, 1 set of tools on board, auxiliary light assembly 1 set, 1 set of auxiliary trachea assembly, 1 yellow long row LED engineering warning light.
10 wheel Shacman 20ton to 25ton wrecker towing truck specification:
---
Vehicle technical parameters

product name

6X4 shacman medium duty rotator tow truck and 20 ton to 25tons heavy-duty wreckers

10.62×2.5×3. 36 meters

Total mass

25 tons

Curb quality

18.72 tons

Hoisting specification

20 tons

Tops

20 tons

Chassis technical parameters

Chassis name

S

Chassis model

CA5250JSQP63K1L5T1E5

Number of axes

3

Number of tires

11

Wheelbase

5.8+1.35 meters

Tire specifications

10.00R20

Gearbox

10 files

Rear axle

10 tons

Fuel type

Diesel

brake

Air brake

Emission basis

GB17691-2005 country V, GB3847-2005

engine model

Engine manufacturer

Displacement (ml)

horsepower

WP10.336E40

China Shacman

8896

336 horsepower

Top basic configuration

The standard configuration

20 tons joint body top, with winch 10 tons x 2 hydraulic winch, 45 meters steel wire rope, 4 sets of steel forks, a set of trailer sets, a set of steel ear lifting forks, a set of tire protection devices, a set of vehicle tools, auxiliary lights A set of assemblies, a set of auxiliary air pipe assemblies, with a set of yellow long row engineering lights.
10 wheel Shacman 20ton to 25ton wrecker towing truck Advantage:
---
The loading surface of the platform is formed by stamping die once. The endurance is strong and the shape is not deformed. The plate surface is smoother, the structure is more professional and the strength is higher. The hydraulic parts adopt internationally renowned brands, and the product quality is guaranteed.
It integrates multiple functions such as lifting, carrying, dragging, pulling and so on. The hydraulic oil pipe is made of galvanized steel, which has good pressure resistance, strong heat dissipation performance, beautiful and durable.
10 wheel Shacman 20ton to 25ton wrecker towing truck Structure:
---

10 wheel Shacman 20ton to 25ton wrecker towing truck operations:
---

10 wheel Shacman 20ton to 25ton wrecker towing truck details:
---